Ulva linza
Linnaeus

1753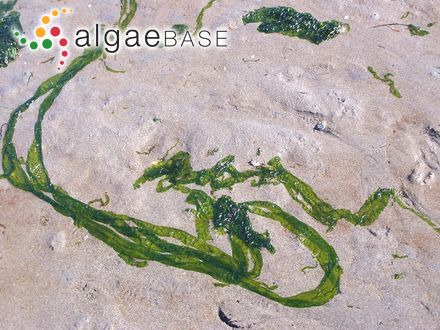 Publication details
Ulva linza Linnaeus 1753: 1163
Published in: Linnaeus, C. (1753). Species plantarum, exhibentes plantas rite cognitas, ad genera relatas, cum differentiis specificis, nominibus trivialibus, synonymis selectis, locis natalibus, secundum systema sexuale digestas. Vol. 2 pp. [i], 561-1200, [1-30, index], [i, err.]. Holmiae [Stockholm]: Impensis Laurentii Salvii.

Download PDF
Publication date: 1 May 1753
Type species
The type species (holotype) of the genus Ulva is Ulva lactuca Linnaeus.
Status of name
This name is of an entity that is currently accepted taxonomically.
Type information
Type locality: "In Oceano" (Linnaeus 1753: 1163). Lectotype: Dillenius (1742: pl. 9: fig. 6) (epitype) OXF "Tremella marina fasciata" (Hayden & al. 2003: 289). Notes: Hayden et al. (2003: 289) list the type locality as Sheerness, Kent, England.
Infrageneric classification
Subgenus Ulva Section Enteromorpha
Homotypic Synonym(s)
Solenia linza (Linnaeus) C.Agardh 1824
Enteronia linza (Linnaeus) Chevallier 1836
Phycoseris linza (Linnaeus) Kützing 1843
Enteromorpha linza (Linnaeus) J.Agardh 1883

Heterotypic Synonym(s)
Enteromorpha linza f. lanceolata Unknown authorities
Enteromorpha linza var. angusta Unknown authorities
Ulva linza var. lanceolata Kützing
Ulva linza var. angusta Kützing
Ilea bertolonii Meneghini ex Zanardini
Phycoseris bertolonii Rabenhorst
Solenia bertolonii C.Agardh
Ulva lanceolata Linnaeus 1767
Ulva intybacea Lamarck 1779
Ulva crispata Bertoloni 1810
Ulva fasciata S.F.Gray 1821
Ulva bertolonii C.Agardh 1823
Scytosiphon intestinalis var. plynthodes Wallroth 1833
Enteronia bertolonii Chevallier 1836
Phycoseris crispata (Bertoloni) Kützing 1843
Enteromorpha bertolonii Montagne 1846
Ulva enteromorpha f. crispata (Bertoloni) Le Jolis 1863
Ulva enteromorpha var. lanceolata (Linnaeus) Le Jolis 1863
Enteromorpha bertolonii var. lanceolata (Linnaeus) Grunow 1867
Enteromorpha lanceolata var. crispata (Bertoloni) Rabenhorst 1868
Enteromorpha crispata (Bertoloni) Piccone 1878
Enteromorpha linza f. crispata (Bertoloni) J.Agardh 1883
Enteromorpha linza var. crispata (Bertoloni) Hylmö 1916
Enteromorpha ahlneriana Bliding 1944
Enteromorpha bulbosa var. japonica Yoshida et al. 1990

Distributional notes
Results of studies carried out by O'Kelly et al. (2010) suggest that Ulva populations in tropical and subtropical regions consist of species that are largely unique to these areas, for which the application of names based on types from temperate and boreal European and North American waters is inappropriate. - (1 Sep 2010) - Wendy Guiry
Habitat notes
mid and high intertidal; tide pool; epilithic (Augyte & Shaughnessy, 2014). - (3 Dec 2014) - Wendy Guiry
General environment
This is a marine species.
Common names
(as Ulva linza Linnaeus)
English: Slender sea lettuce (Chapman & Chapman 1980), Doubled Ribbon Weed (Bunker & al. 2010).
(as Enteromorpha linza (Linnaeus) J.Agardh)
Chinese: Hai-cai (Arasaki & Arasaki 1983).
Japanese: Usuba-awonori (Tokida 1954), Usaba-aonori (Arasaki & Arasaki 1983).
Detailed distribution with sources (Click to Load)

Key references
Bae, H.B. (2010). Ulotrichales, Ulvales. In: Algal flora of Korea. Volume 1, Number 1. Chlorophyta: Ulvophyceae: Ulotrichales, Ulvales, Cladophorales, Bryopsidales. Marine green algae. (Bae, E.H., Kim, H.-S., Kwon, C.-J., Hwang, I.-K., Kiim, G.H. & Klochkova, T.A. Eds), pp. 7-52. Incheon: National Institute of Biological Resources.
Belous, O.S., Titlyanova, T.V. & Titlyanov, E.A. (2013). Morskiye rasteniya bukhty Troitsy i smezhnykh akvatorii radno (Zaliv Petra Velikogo, Yaponskoye more) [Marine plants of Trinity Bay and adjacent waters (Peter the Great Bay, Sea of Japan)]. pp. 263, profusely illustrated. Vladivostok: Dal'nauka. [in Russian]
Braune, W. (2008). Meeresalgen. Ein Farbbildführer zu den verbreiteten benthischen Grün- Braun- und Rotalgen der Weltmeere. pp. [1]-596, pls 1-266 (colour photographs). Ruggell: A.R.G. Gantner Verlag.
Brodie, J., Maggs, C.A. & John, D.M. (2007). Green seaweeds of Britain and Ireland. pp. [i-v], vi-xii, 1-242, 101 figs. London: British Phycological Society.
Burova, O.V., Tsarenko, P.M., Kovalenko, O.V., Mikhailyuk, T.I., Petlovany, O.A., Lilitska, G.G. & Bilous, O.P. (2011). Ulvophyceae. In: Algae of Ukraine: diversity, nomenclature, taxonomy, ecology and geography. Volume 3: Chlorophyta. (Tsarenko, P.M., Wasser, S.P. & Nevo, E. Eds), pp. 20-61. Ruggell: A.R.A. Gantner Verlag K.-G.
Cormaci, M., Furnari, G., & Alongi, G. (2014). Flora marina bentonica del Mediterraneo: Chlorophyta. Bollettino dell'Accademia Gioenia di Scienze Naturali di Catania 47: 11-436.
Coto, A.C.S.P. & Pupo, D. (2009). Flora ficológica do Estado de São Paulo. Vol. 3. Ulvophyceae. pp. [i]-x, [1]-76, 94 figs. São Carlos: RiMa Editora.
Dawes, C.J. & Mathieson, A.C. (2008). The seaweeds of Florida. pp. [i]- viii, [1]-591, [592], pls I-LI. Gainesville, Florida: University Press of Florida.
Hayden, H.S. & Waaland, J.R. (2004). A molecular systematic study of Ulva (Ulvaceae, Ulvales) from the northeast Pacific. Phycologia 43: 364-382.
Hayden, H.S., Blomster, J., Maggs, C.A., Silva, P.C., Stanhope, M.J. & Waaland, J.R. (2003). Linnaeus was right all along: Ulva and Enteromorpha are not distinct genera. European Journal of Phycology 38(3): 277-294, 4 figs, 5 tables.
Heesch, S., Broom, J.E.S., Neill, K.F., Farr, T.J., Dalen, J.L. & Nelson, W.A. (2009). Ulva, Umbraulva and Gemina: genetic survey of New Zealand taxa reveals diversity and introduced species. European Journal of Phycology 44(2): 143-154, 2 figs, 4 tables.
Kang, E.J., Kim, J.-H., Kim, K., Choi, H.-G & Kim, K.Y. (2014). Re-evaluation of green tide-forming species in the Yellow Sea. Algae. An International Journal of Algal Research 29(4): 267-277.
Kirkendale, L., Saunders, G.W. & Winberg, P. (2013). A molecular survey of Ulva (Chlorophyta) in temperate Australia reveals enhanced levels of cosmopolitanism. Journal of Phycology 49(1): 69-81.
Lindeberg, M.R. & Lindstrom, S.C. (2010). Field guide to the seaweeds of Alaska. pp. [i-]iii-iv, 1-188, numerous col. photographs. Fairbanks: Alaska Sea Grant College Program.
Loiseaux-de Goër, S. & Noailles, M.-C. (2008). Algues de Roscoff. pp. [1]-215, col. figs. Roscoff: Editions de la Station Biologique de Roscoff.
Mathieson, A.C. & Dawes, C.J. (2017). Seaweeds of the Northwest Atlantic. pp. [i]-x, 1-798, 109 pls. Amherst & Boston: University of Massachusetts Press.
Miladi, R., Manghisi, A., Armeli Minicante, S.. Genovese, G., Abdelfkafi, S. & Morabito, M. (2018). A DNA barcoding survey of Ulva (Chlorophyta) in Tunisia and Italy reveals the presence of the overlooked alien U. ohnoi. Cryptogamie Algologie 39(1): 85-107.
Nielsen, R. & Lundsteen, S. (2019). Danmarks havalger Bind 2 Brunalger (Phaeophyceae) og Grønalger (Chlorophyta). Scientia Danica. Series B, Biologica 8: [1]-476, col. figs and distributional maps.
Norris, J.N. (2010). Marine algae of the Northern Gulf of California: Chlorophyta and Phaeophyceae. Smithsonian Contributions to Botany 94: i-x, 1-276.
Ogawa, T., Ohki, K. & Kamiya, M. (2013). Differences of spatial distribution and seasonal succession among Ulva species (Ulvophyceae) across salinity gradients. Phycolgia 52(6): 637-651.
Sfriso, A. (2011). Chlorophyta multicellulari e fanerogame acquatiche. Ambiente di transizione italiani e litorali adiacenti. pp. [1]-318, pls 1-94. Bologna: Arpa Emilia-Romagna.
Smith, G.M. (1944). Marine algae of the Monterey Peninsula. pp. i-ix, 1-622, 98 pls. Stanford: Stanford University Press.
Spencer, M.A., Irvine, L.M. & Jarvis, C.E. (2009). Typification of Linnaean names relevant to algal nomenclature. Taxon 58: 237-260.
Steinhagen, S., Karez, R. & Weinberger, F. (2019). Surveying seaweeds from the Ulvales and Fucales in the world's most frequently used artificial waterway, the Kiel Canal. Botanica Marina 62(1): 51-61.
Titlyanov E.A., Titlyanova T.V. & Belous O.S. (2016). Useful marine plants of the Asia-Pacific Region countries. pp. 1-348, Many col. photo. Vladivostok: Dalnauka. [in Russian and English]
Titlyanov, E.A. & Titlyanova, T.V. (2012). Morskiye rasteniya stran Aziatsko-Tikhookeanskogo regiona, ikh ispol'zovaniye i kul'tivirovaniye [Marine plants of the Asian Pacific Region countries, their use and cultivation]. pp. 376, 52 numbered figures, 162 plates. Vladivostok: Dalnauka & A.V. Zhirmunsky Institute of Marine Biology Far East Branch of the Russian Academy of Sciences. [in Russian]
Created: 19 October 1998 by M.D. Guiry
Verified by: 26 October 2020 by M.D. Guiry
Accesses: This record has been accessed by users 14255 times since it was created.
Verification of data
Users are responsible for verifying the accuracy of information before use, as noted on the website Content page.
References
(Please note: only references with the binomials in the title are included. The information is from the Literature database.)
Jin, Q., Dong, S. & Wang, C. 2005 (2005). Allelopathic growth inhibition of Prorocentrum micans (Dinophyta) by Ulva pertusa and Ulva linza (Chlorophyta) in laboratory cultures. European Journal of Phycology 40: 31-37.
Kang, E.J., Kim, J.-H., Kim, K. & Kim, K.Y. (2016). Adaptations of a green tide forming Ulva linza (Ulvophyceae, Chlorophyta) to selected salinity and nutrients conditions mimicking representative environments in the yellow Sea. Phycologia 55(2): 210-218.
Stanley, M.S., Perry, R.M. & Callow, J.A. (2005). Analysis of expressed sequence tags from the green alga Ulva linza (Chlorophyta). Journal of Phycology 48: 1219-1226.
Ying, C.-Q., Yin, S.-J., Shen, Y., Lin, S.-J. & He, P.-M. (2011). Cloning and analysis of the full-length Rubisco large subunit (rbcL) cDNA from Ulva linza (Chlorophyceae, Chlorophyta). Botanica Marina 54(3): 303-312.

Linking to this page: http://www.algaebase.org/search/species/detail/?species_id=12905
Citing AlgaeBase
Cite this record as:
M.D. Guiry in Guiry, M.D. & Guiry, G.M. 2021. AlgaeBase. World-wide electronic publication, National University of Ireland, Galway. http://www.algaebase.org; searched on 28 September 2021.