Melosira nummuloides C.
Agardh

1824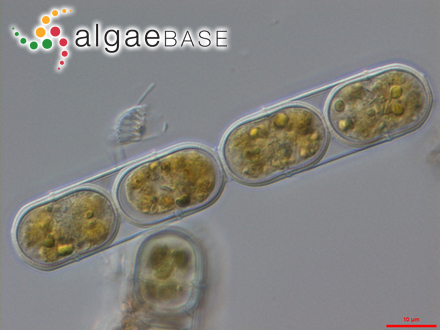 Melosira nummuloides C.Agardh Pasadena, Maryland, USA; Bodkin Creek, Formaldehyde, 1000x, DIC, det.Kalina Manoylov Georgia College and State University
© Karl Bruun (skogenman@earthlink.net)
Publication details
Melosira nummuloides C.Agardh 1824: 8
Published in: Agardh, C.A. (1824). Systema algarum. pp. [i]-xxxvii, [1]-312. Lundae [Lund]: Literis Berlingianis [Berling].

Download PDF
Publication date: probably September 1824
Type species
This is the type species (holotype) of the genus Melosira.
Status of name
This name is of an entity that is currently accepted taxonomically.
Type information
Type locality: Denmark: Fin; Frisia (Index Nominum Algarum).
Heterotypic Synonym(s)
Melosira nummularioides Chevalier 1836

Nomenclatural notes
Several authors, including Hustedt (1930: 84), give the authorities for this species as "(Dillwyn) C.A. Agardh", which is incorrect as C.Agardh (1824: 8-9) introduced a a new name, Melosira discigera for Dillwyn's Conferva nummuloides. C,Agardh (1824: 8) included in synonymy Conferva nummuloides sensu Smith (English Botany, pl. 2287 with a question mark), Fragilaria nummuloides sensu Lyngbye (1809: pl. 63) and Conferva moniliformis "Jurg. Dec. 1" which appears to be an unpublished name.
General environment
This is a marine species.
Detailed distribution with sources
(as Melosira nummuloides C.Agardh)
Atlantic Islands: Canary Islands (Gil-Rodríguez et al. 2003, Ojeda Rodríguez, Gil-Rodríguez & Moreira-Reyes 2005, Moro & al. 2011, Afonso-Carrillo 2014), Iceland (Foged 1974).

Europe: Adriatic Sea (Vilicic, Marasovic & Miokovic 2002), Albania (Miho & Witkowski 2005), Baltic Sea (Hällfors 2004), Black Sea (BSPC Editorial Board 2014, Zotov 2018), Bosnia-Hertzegovina (Hafner, Jasprica & Car 2018), Britain (Hendey 1954, Hendey 1974, Hartley 1986, Sims 1996, Whitton & al. 2003, Wilkinson & al. 2007), France (Germain 1981, Méléder et al. 2007
, Anon. 2017), Germany (Ludwig & Schnittler 1996, Mauch & Schmedtje 2003), Helgoland (Kraberg & al. 2019), Ireland (Adams 1908), Netherlands (Veen & al. 2015), Poland (Plinski & Witkowski 2020), Portugal (Moita & Vilarinho 1999), Romania (Caraus 2017), Scandinavia (Karlason & al. 2018), Spain (Varela 1982, Aboal & al. 2003), Ukraine (Bukhtiyarova 1999), Venice Lagoon (Tolomio et al. 2002).

North America: Alaska (Saunders 1901, Foged 1981), Canada (Mather & al. 2010), Gulf of California (Moreno, Licea & Santoyo 1996), Mexico (López-Fuerte & Siqueiros-Beltrones 2016), Mexico (Atlantic) (Merino-Virgilio & al. 2013, Licea, Moreno-Ruiz & Luna 2016), Mexico (Pacific) (Torres-Ariño & al. 2019), Mississippi (Sullivan 1981), North Carolina (Hustedt 1955), Nova Scotia (Kim, Garbary & McLachlan 2004), Oregon (Sawai et al. 2016), United States of America (Kociolek 2005), Virginia (Adey et al. 2013), Western Canada (Bahls, Boynton & Johnston 2018).

South America: Colombia (Lozano-Duque & al. 2010).

Africa: Gambia (Foged 1986), Ghana (Foged 1966, Smith, Smith & Nii Yemoh Annang 2015), South Africa (Giffen 1967, Garcia 2005).

Middle East: Iraq (Maulood & al. 2013), Turkey (Aysel 2005, Taskin (ed.) & al. 2019, Kalei & Akçaalan 2020).

South-east Asia: Singapore (Pham & al. 2011).

Asia: China (Liu 2008), Japan (Kobayashi & al. 2006), Korea (Lee, Choi & Lee 1995, Joh 2010), Russia (Far East) (Medvedeva & Nikulina 2014), Russia (Sea of Japan) (Gail 1950), Taiwan (Shao 2003-2014).

Australia and New Zealand: Australia (McCarthy 2013), New South Wales (Day & al. 1995), New Zealand (Harper & al. 2012), Queensland (Day & al. 1995, John 2016), Tasmania (John 2018), Victoria (Day & al. 1995).

Pacific Islands/Pacific Ocean: Guam (Lobban & al. 2012), Hawaiian Islands (Huisman, Abbott & Smith 2007).

Key references
Bérard-Therriault, L., Poulin, M. & Bossé, L. (1999). Guide d'identification du phytoplancton marin de l'estuaire et du Golfe du Saint-Laurent incluant également certains protozoaires. Publication Spéciale Canadienne des Sciences Halieutiques et Aquatiques 128: 1-387.
Cleve-Euler, A. (1951). Die Diatomeen von Schweden und Finnland. [TeilI. I. Centricae]. Kungliga Svenska Vetenskapsakademiens Handlingar, ser. IV 2(1): 1-163, 6 pls.
Foged, N. (1966). Freshwater diatoms from Ghana. Det Kongelige Danske Videnskabernes Selskab, Biologiske Shrifter 15(1): 1-169, 25 pls.
Guo Yujie [Kuo, Y.C., Guo, Y.C.] (2003). Flora algarum marinarum sinicarum. Tomus V. Bacillariophyta No. I. Centricae. pp. [1]-493. Beijing: Science Press.
Hasle, G.R. & Syvertsen, E.E. (1996). Marine diatoms. In: Identifying Marine Phytoplankton. (Tomas, C.R. Eds), pp. 5-385. San Diego: Academic Press.
Hendey, N.I. (1964). An introductory account of the smaller algae of British coastal waters. Part V: Bacillariophyceae (diatoms). pp. [i]-xxii, 1-317. London: Ministry of Agriculture, Fisheries and Food, Fishery Investigations. Her Majesty's Stationery Office.
Hofmann, G., Werum, M. & Lange-Bertalot, H. (2013). Diatomeen im Süßwasser—Benthos von Mitteleuropa. Bestimmungsflora Kieselalgen für die ökologische Praxis. Über 700 der häufigsten Arten und ihre Ökologie. pp. [1]-908, 133 pls. Königstein: Koeltz Scientific Books.
Hoppenrath, M., Elbrächter, M. & Drebes, G. (2009). Marine phytoplankton Selected microphytoplankton species from the North Sea around Helgoland and Sylt. pp. [1]-264, figs 1-87. Stuttgart: E. Schweizerbart'sche Verlagsbuchhandlung.
Houk, V. (2003). Atlas of freshwater centric diatoms with a brief key and descriptions. Part. I. Melosiraceae, Orthoseiraceae, Paraliaceae and Aulacoseiraceae. Czech Phycology Supplement 1: 1-27, plus pls I-XLI [1-41].
Houk, V. & Klee, R. (2007). Atlas of freshwater centric diatoms with a brief key and descriptions. Part II. Melosiraceae and Aulacoseiraceae (Supplement of Part I). Fottea 7(2): 85-108, plus pl. XLII-CXIV.
Huisman, J.M., Abbott, I.A., Smith, C.M. (2007). Hawaiian reef plants. pp. [1]-264, numerous colour photographs. Honolulu: A publication of the University of Hawai'i Sea Grant College Program.
Hustedt, F. (1930). Bacillariophyta (Diatomeae) Zweite Auflage. In: Die Süsswasser-Flora Mitteleuropas. Heft 10. (Pascher, A. Eds), pp. [i]-vii, [1]-466. Jena: Verlag von Gustav Fischer.
Joh, G. (2010). Algal flora of Korea. Volume 3, Number 1. Chrysophyta: Bacillariophyceae: Centrales. Freshwater diatoms I. pp. [1-6], 1-161, figs 1-105. Incheon: National Institute of Biological Resources.
John, J. (2016). Diatoms from Stradbroke and Fraser Islands, Australia: taxonomy and biogeography. The diatom flora of Australia Volume 1. pp. [1]-377, 258 figs. Schmitten - Oberreifenberg: Koeltz Botanical Books.
John, J. (2018). Diatoms from Tasmania: taxonomy and biogeography. The diatom flora of Australia Volume 2. pp. [1]-656, 351 figs. Schmitten - Oberreifenberg: Koeltz Botanical Books.
Khursevich, G. & Kociolek, J.P. (2012). A preliminary, worldwide inventory of the extinct, freshwater fossil diatoms from the orders Thalassiosirales, Stephanodiscales, Paraliales, Aulacoseirales, Melosirales, Coscinodiscales, and Biddulphiales. Nova Hedwigia Beiheft 141: 315-364, no figs.
Kobayashi, H., Idei, M., Mayama, S., Nagumo, T. & Osada, K. (2006). Kobayashi hiromu keiso zukan. H.Kobayasi's atlas of Japanese diatoms based on electron microscopy. dai 1kan. pp. [1]-531, 180 pls. Tokyo: Uchida Rokakuho Publishing Co., Ltd. [in Japanese]
Lange-Bertalot, H., Hofmann, G., Werum, M. & Cantonati, M. (2017). Freshwater benthic diatoms of Central Europe: over 800 common species used in ecological assessments. English edition with updated taxonomy and added species (Cantonati, M. et al. eds). pp. [1]-942, 135 pls. Schmitten-Oberreifenberg: Koeltz Botanical Books.
Pankow, H. (1976). Algenflora der Ostsee. II. Plankton (einschliesslich benthischer Kieselalgen). pp. 1-493, 880 figs, 26 pls. Jena: Gustav Fischer.
Plinski, M. & Witkowski, A. (2020). Diatoms from the Gulf of Gdansk and surrounding waters (the southern Baltic Sea). pp. [1]-442, incl. 31 SEM pls, 16 photo pls. Gdansk: Gdansk University Press.
Sims, P.A. (ed.) (1996). An atlas of British diatoms arranged by B. Hartley based on illustrations by H.G. Barber and J.R. Carter. pp. [2], 1-601, incl. 290 pls. Bristol: Biopress Ltd.
Villac, M.C., Kaczmarska, I. & Ehrman, J.M. (2016). Diatoms from ship ballast sediments (with consideration of a few additional species of special interest). Diatom Monographs 18: [1]-557, 235 pls.
Witkowski, A., Lange-Bertalot, H. & Metzeltin, D. (2000). Diatom flora of marine coasts I. Iconographia Diatomologica 7: 1-925, 219 pls with 4504 figs.
Created: 11 April 2002 by M.D. Guiry
Verified by: 20 August 2020 by M.D. Guiry
Accesses: This record has been accessed by users 7886 times since it was created.
Verification of data
Users are responsible for verifying the accuracy of information before use, as noted on the website Content page.
References
(Please note: only references with the binomials in the title are included. The information is from the Literature database.)
Crawford, R.M. (1973). The organic component of the cell wall of the marine diatom Melosira nummuloides (Dillw.) C. Ag.. British Phycological Journal 8: 257-266, 15 figs.
Crawford, R.M. (1974). The auxospore wall of the marine diatom Melosira nummuloides (Dillw.) C. Ag. and related species. British Phycological Journal 9: 9-20, 25 figs.
Hellebust, J.A. & Guillard, R.R.L. (1967). Uptake specificity for organic substrates by the marine diatom Melosira nummuloides. Journal of Phycology 3: 132-136, 2 figs, 5 tables.
McLean, R.O., Corrigan, J. & Webster, J. (1981). Heterotrophic nutrition in Melosira nummuloides, a possible role in affecting distribution in the Clyde estuary. British Phycological Journal 16: 95-106, 8 figs, 4 tables.
McLean, R.O., Corrigan, J.C. & Webster, J. (1980). Further observations on Melosira nummuloides from the Clyde Estuary. British Phycological Journal 15: 196.
Webster, J. & McLean, R.O. (1982). Features of substrate uptake in the facultative heterotroph Melosira nummuloides. British Phycological Journal 17: 240-241.

Linking to this page: http://www.algaebase.org/search/species/detail/?species_id=31648
Citing AlgaeBase
Cite this record as:
M.D. Guiry in Guiry, M.D. & Guiry, G.M. 2021. AlgaeBase. World-wide electronic publication, National University of Ireland, Galway. http://www.algaebase.org; searched on 21 September 2021.