Ulva flexuosa
Wulfen

1803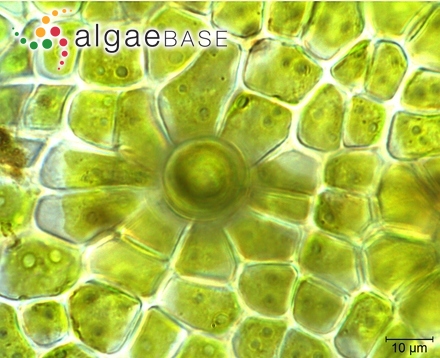 Ulva flexuosa Wulfen   Apical view of emerging filament. Collected by Hannah Kemp, Highfields Park, Nottingham, England
©   C.F.Carter (chris.carter'at'6cvw.freeuk.com)
Publication details
Ulva flexuosa Wulfen 1803: xxii, 1
Published in: Wulfen, F.X. (1803). Cryptogama aquatica. Archives de Botanique 3: 1-64, pl. 1.

Download PDF
Type species
The type species (holotype) of the genus Ulva is Ulva lactuca Linnaeus.
Status of name
This name is of an entity that is currently accepted taxonomically.
Type information
Type locality: Duino (near Trieste), Adriatic Sea [marine localtion] (Womersley 1984: 157). Type: W Wulfen No. 23 (Hayden & al. 2003: 289, table 4).
Origin of species name
Adjective (Latin), zigzag, bent alternately in opposite directions (Stearn 1973).
Homotypic Synonym(s)
Enteromorpha flexuosa (Wulfen) J.Agardh 1883

Heterotypic Synonym(s)
Conferva flexuosa Roth 1800
Enteromorpha intestinalis var. tubulosa Kützing 1845
Enteromorpha tubulosa (Kützing) Kützing 1856
Enteromorpha lingulata J.Agardh 1883
Enteromorpha compressa var. lingulata (J.Agardh) Hauck 1884
Enteromorpha prolifera var. tubulosa (Kützing) Batters 1902
Enteromorpha intestinalis f. tubulosa (Kützing) V.J.Chapman 1937
Enteromorpha tubulosa var. ramosa Schiffner 1938
Enteromorpha lingulata var. elongata Schiffner 1938
Enteromorpha lingulata f. genuina Schiffner 1938
Enteromorpha tubulosa var. vermiculata Schiffner 1938

Nomenclatural notes
Replaced name: Conferva paradoxa Roth, nom. illeg., non Conferva paradoxa O.F.Müller. - (29 Aug 2007) - Wendy Guiry
Taxonomic notes
John et al. (2004) give Enteromorpha lingulata J. Agardh, E. paradoxa (Dillwyn) Kützing and E. erecta (Lyngb.) J. Agardh as synonyms of this species. John et al. (2004) have followed Hayden et al. (2003) who consider Enteromorpha lingulata close to or identical with E. flexuosa. For further discussion of the conspecificity of these two species, see Lawson & Price (1969).
Distributional notes
Results of studies carried out by O'Kelly et al. (2010) suggest that Ulva populations in tropical and subtropical regions consist of species that are largely unique to these areas, for which the application of names based on types from temperate and boreal European and North American waters is inappropriate. - (1 Sep 2010) - Wendy Guiry
Habitat notes
Euryhaline, primarily freshwater species, occurring in a wide variety of flowing and stagnant waters. It prefers highly oxygenated, alkaline, and eutrophic waters, with high levels of sulphates, and in mildly brackish habitats. - (14 Mar 2018) - M.D. Guiry
Conservational notes
According to Mares et al. (2011:1187), Ulva flexuosa [subspp.] should not be considered as alien or invasive in inland European waters. - (22 Dec 2011) - Wendy Guiry
General environment
This is a marine/freshwater species.
Common names
(as Enteromorpha flexuosa (Wulfen) J.Agardh)
Arabic: Tahalib (F.A.O. 1997).
English: Winding Nori (F.A.O. 1997).
Hawaiian: Limu ele'ele (Chapman & Chapman 1980).
Swedish: Gallertarmalg, Tarmalg (Tolstoy & Österlund 2003).
Detailed distribution with sources (Click to Load)

Key references
Belous, O.S., Titlyanova, T.V. & Titlyanov, E.A. (2013). Morskiye rasteniya bukhty Troitsy i smezhnykh akvatorii radno (Zaliv Petra Velikogo, Yaponskoye more) [Marine plants of Trinity Bay and adjacent waters (Peter the Great Bay, Sea of Japan)]. pp. 263, profusely illustrated. Vladivostok: Dal'nauka. [in Russian]
Brodie, J., Maggs, C.A. & John, D.M. (2007). Green seaweeds of Britain and Ireland. pp. [i-v], vi-xii, 1-242, 101 figs. London: British Phycological Society.
Burova, O.V., Tsarenko, P.M., Kovalenko, O.V., Mikhailyuk, T.I., Petlovany, O.A., Lilitska, G.G. & Bilous, O.P. (2011). Ulvophyceae. In: Algae of Ukraine: diversity, nomenclature, taxonomy, ecology and geography. Volume 3: Chlorophyta. (Tsarenko, P.M., Wasser, S.P. & Nevo, E. Eds), pp. 20-61. Ruggell: A.R.A. Gantner Verlag K.-G.
Cormaci, M., Furnari, G., & Alongi, G. (2014). Flora marina bentonica del Mediterraneo: Chlorophyta. Bollettino dell'Accademia Gioenia di Scienze Naturali di Catania 47: 11-436.
Coto, A.C.S.P. & Pupo, D. (2009). Flora ficológica do Estado de São Paulo. Vol. 3. Ulvophyceae. pp. [i]-x, [1]-76, 94 figs. São Carlos: RiMa Editora.
Dawes, C.J. & Mathieson, A.C. (2008). The seaweeds of Florida. pp. [i]- viii, [1]-591, [592], pls I-LI. Gainesville, Florida: University Press of Florida.
Hayden, H.S., Blomster, J., Maggs, C.A., Silva, P.C., Stanhope, M.J. & Waaland, J.R. (2003). Linnaeus was right all along: Ulva and Enteromorpha are not distinct genera. European Journal of Phycology 38(3): 277-294, 4 figs, 5 tables.
Heesch, S., Broom, J.E.S., Neill, K.F., Farr, T.J., Dalen, J.L. & Nelson, W.A. (2009). Ulva, Umbraulva and Gemina: genetic survey of New Zealand taxa reveals diversity and introduced species. European Journal of Phycology 44(2): 143-154, 2 figs, 4 tables.
Hiraoka, M., Ichihara, K., Zhu, W., Shimada, S., Oka, N., Cui, J., Tsubaki, S. & He, P. (2017). Examination of species delimitation of ambiguous DNA-based Ulva (Ulvophyceae, Chlorophyta) clades by culturing and hybridisation. Phycologia 56(5): 517-532.
Huisman, J.M. (2015). Algae of Australia: marine benthic algae of north-western Australia. 1. Green and brown algae. pp. [i]-viii, 1-320, 56 figs, 14 pls. Canberra & Melbourne: ABRS & CSIRO Publishing.
Huisman, J.M. (2019). Marine plants of Australia Revised edition. pp. [i]-xviii, [1]-435, numerous col. figs. Crawley Western Australia: UWA Publishing.
Huisman, J.M., Abbott, I.A., Smith, C.M. (2007). Hawaiian reef plants. pp. [1]-264, numerous colour photographs. Honolulu: A publication of the University of Hawai'i Sea Grant College Program.
Kirkendale, L., Saunders, G.W. & Winberg, P. (2013). A molecular survey of Ulva (Chlorophyta) in temperate Australia reveals enhanced levels of cosmopolitanism. Journal of Phycology 49(1): 69-81.
Kraft, G.T. (2007). Algae of Australia. Marine benthic algae of Lord Howe Island and the southern Great Barrier Reef, 1. Green algae. pp. [i]-vi, 1-347, 110 text-figs; 11 pls. Canberra & Melbourne: Australian Biological Resources Study & CSIRO Publishing.
Loiseaux-de Goër, S. & Noailles, M.-C. (2008). Algues de Roscoff. pp. [1]-215, col. figs. Roscoff: Editions de la Station Biologique de Roscoff.
Mathieson, A.C. & Dawes, C.J. (2017). Seaweeds of the Northwest Atlantic. pp. [i]-x, 1-798, 109 pls. Amherst & Boston: University of Massachusetts Press.
Ni-Ni-Win, Hanyuda, T., Arai, S., Uchimura, M., Prathep, A., Draisma, S.G.A., Phang, S.M., Abbott, I.A., Millar, A.J.K. & Kawai, H. (2011). A taxonomic study of the genus Padina (Dictyotales, Phaeophyceae) including the description of four new species from Japan, Hawaii, and the Andaman Sea. Journal of Phycology 47(5): 1193-1209.
Nielsen, R. & Lundsteen, S. (2019). Danmarks havalger Bind 2 Brunalger (Phaeophyceae) og Grønalger (Chlorophyta). Scientia Danica. Series B, Biologica 8: [1]-476, col. figs and distributional maps.
Norris, J.N. (2010). Marine algae of the Northern Gulf of California: Chlorophyta and Phaeophyceae. Smithsonian Contributions to Botany 94: i-x, 1-276.
Pedroche, F.F., Silva, P.C., Aguilar-Rosas, L.E., Dreckmann, K.M. & Aguilar-Rosas, R. (2005). Catálogo de las algas marinas bentónicas del Pacífico de México. I. Chlorophycota. pp. i-viii, 17-146. Ensenada, México: Universidad Autónoma de Baja California.
Rybak, A.S. (2015). Revision of herbarium specimens of freshwater Enteromorpha-like Ulva (Ulvaceae, Chlorophyta) collected from Central Europe during the years 1849–1959. Phytotaxa 218(1): 1-29.
Sfriso, A. (2011). Chlorophyta multicellulari e fanerogame acquatiche. Ambiente di transizione italiani e litorali adiacenti. pp. [1]-318, pls 1-94. Bologna: Arpa Emilia-Romagna.
Suárez, A.M., Martínez-Daranas, B. & Alfonso, Y. (2015). Macroalgas marinas de Cuba. pp. [1]-264, 229 figs. La Habana [Havana]: UH [Universidad de La Habana] Editorial.
Titlyanov E.A., Titlyanova T.V. & Belous O.S. (2016). Useful marine plants of the Asia-Pacific Region countries. pp. 1-348, Many col. photo. Vladivostok: Dalnauka. [in Russian and English]
Titlyanov, E.A. & Titlyanova, T.V. (2012). Morskiye rasteniya stran Aziatsko-Tikhookeanskogo regiona, ikh ispol'zovaniye i kul'tivirovaniye [Marine plants of the Asian Pacific Region countries, their use and cultivation]. pp. 376, 52 numbered figures, 162 plates. Vladivostok: Dalnauka & A.V. Zhirmunsky Institute of Marine Biology Far East Branch of the Russian Academy of Sciences. [in Russian]
Wolf, M.A., Sciuto, K., Andreoli, C. & Moro, I. (2012). Ulva (Chlorophyta, Ulvales) biodiversity in the North Adriatic Sea (Mediterranean, Italy): cryptic species and new introductions. Journal of Phycology 48(6): 1510-1521.
Škaloud, P., Rindi, F., Boedeker, C. & Leliaert, F. (2018). Süßwasserflora von Mitteleuropa. Freshwater flora of central Europe. Bd 13. Chlorophyta: Ulvophyceae (Krienitz, L. ed.). pp. [i]-vii, [1]-288, 182 figs. Berlin: Springer Spektrum.
Created: 27 October 1998 by M.D. Guiry
Verified by: 26 October 2020 by M.D. Guiry
Accesses: This record has been accessed by users 10333 times since it was created.
Verification of data
Users are responsible for verifying the accuracy of information before use, as noted on the website Content page.
References
(Please note: only references with the binomials in the title are included. The information is from the Literature database.)

Castellanos González, M.E.; Moreira González, A.R. & León Pérez, A.R. (2012). Caracterización fitoquímica de las macroalgas marinas Gracilaria caudata J. Agardh, Ulva lactuca L. y Ulva flexuosa subsp. flexuosa Wulfen de la bahía de Cienfuegos, Cuba. Algas, Boletín de la Sociedad Española de Ficología 46: 4-8.
Michael, T.S. (2009). Glycoconjugate organization of Enteromorpha (=Ulva) flexuosa and Ulva fasciata (Chlorophyta) zoospores. Journal of Phycology 45(3): 660-677, 8 figs, 1 table.
Rybak, A., Czerwoniec, A., Gabka, M. & Messyasz, B. (2014). Ulva flexuosa (Ulvaceae, Chlorophyta) inhabiting inland aquatic ecosystems: molecular, morphological and ecological discrimination of subspecies. European Journal of Phycology 49(4): 471-485.

Linking to this page: http://www.algaebase.org/search/species/detail/?species_id=12999
Citing AlgaeBase
Cite this record as:
M.D. Guiry in Guiry, M.D. & Guiry, G.M. 2021. AlgaeBase. World-wide electronic publication, National University of Ireland, Galway. http://www.algaebase.org; searched on 17 October 2021.