Ulva fasciata
Delile

1813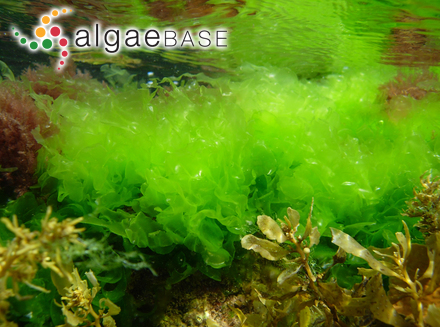 Publication details
Ulva fasciata Delile 1813: 297 [153 of reprint; pl. 58: fig. 5, 1826]
Published in: Delile, A.R. (1813). Description de l'Égypte ou recueile des observations et des recherches qui ont été faites en Égypte pendant l'expédition de l'armée française, publié par les orderes de Sa Majesté l'Empereur Napoléon le Grand.Histoire naturelle. Tom. Second. Histoire naturelle. Vol. 2 (fasc. 2 'troisème livraison') pp. 145-320 [Flore d'Égypte, explication des planches], pls 1-62 [1826]. Paris: Imprimerie Impériale.

Download PDF
Type species
The type species (holotype) of the genus Ulva is Ulva lactuca Linnaeus.
Status of name
This name is currently regarded as a synonym of Ulva lactuca Linnaeus
Synonym(s)
No synonyms are currently included in AlgaeBase.
Nomenclatural notes
Delnatte & Wynne (2016) note "The traditional concepts of Ulva fasciata and U. lactuca are being retained in this treatment. Brief notes appeared in Science (Holden 2007) and in Nature (Butler 2007) with preliminary results indicating that genome mapping conducted by C.Maggs and F.Mineur on the type of U. lactuca in the Linnean Herbarium revealed that the map matched that which was known for U. fasciata. An in-depth official publication of their results has not yet been published." - (20 Oct 2016) - M.D. Guiry
Taxonomic notes
Hughey et al. (2019) showed that DNA sequence (rbcL marker) of the epitype of U. fasciata from Egypt is nearly identical to the sequence of the holotype of Ulva lactuca Linnaeus, which has priority. Therefore, U. fasciata is a synonym of U. lactuca, and it has a warm temperate-tropical distribution. The cold temperate species widely reported as U. lactuca is correctly named Ulva fenestrata Postels & Ruprecht. Sfriso (2010a: 92) considered U. fasciata as an introduced species first reported from the Mediterranean Sea by Sfriso (1987). However, it should be noted that the type locality of this species is the new port of Alexandria (Egypt, Mediterranean Sea) (Delile, 1813: 297); moreover, the species was reported by Gallardo et al. (1993) from about ten different Mediterranean stations. Finally, Aleem (1993: 25) observed that this species is still very common at Alexandria as well [as] the nearby coast." - (1 Sep 2010) - M.D. Guiry
Distributional notes
This species may have been introduced accidentally, probably via oysters from Japan or shipping, into the Mediterranean (Verlaque et al. 2015: 285, as Ulva lactuca), was first reported in the Mediterranean from Alexandria where it was collected in 1878-1801. It is now widely distributed in both basins and is said to be "well established" in the Etang de Thau (Verlaque et al. 2015: 285, as Ulva lactuca). - (6 Nov 2015) - M.D. Guiry
General environment
This is a marine species.
Common names
(as Ulva fasciata Delile)
Hawaiian: Limu papahapapa (Chapman & Chapman 1980), Pahapaha, Limu Pahapaha (Arasaki & Arasaki 1983), Limu Palahalaha, Pakaiea, Papahapaha (Abbott 1984).
Type information
Type locality: "tapisse le fond du port neuf d'Alexandrie, depuis le quai de la ville jusqu'au lieu du mouillage des vaisseux près de la digue du Phare [new port, Alexandria, Egypt] (Delile 1813: 297). Lectotype: PC 2050475 (Yoshida 1998: 503).
Detailed distribution with sources (Click to Load)

Source of current name
Hughey, J.R., Maggs, C.A., Mineur, F., Jarvis, C., Miller, K.A., Shabaka, S.H. & Gabrielson, P.W. (2019). Genetic analysis of the Linnaean Ulva lactuca (Ulvales, Chlorophyta) holotype and related type specimens reveals name missapplications, unexpected origins, and new synonomies (Letter). Journal of Phycology 55(3): 503-508, 2 figs.
Key references
Adams, N.M. (1994). Seaweeds of New Zealand. An Illustrated Guide. pp. [1-7], 8-360, 116 pls. Christchurch: Canterbury University Press.
Bae, H.B. (2010). Ulotrichales, Ulvales. In: Algal flora of Korea. Volume 1, Number 1. Chlorophyta: Ulvophyceae: Ulotrichales, Ulvales, Cladophorales, Bryopsidales. Marine green algae. (Bae, E.H., Kim, H.-S., Kwon, C.-J., Hwang, I.-K., Kiim, G.H. & Klochkova, T.A. Eds), pp. 7-52. Incheon: National Institute of Biological Resources.
Braune, W. (2008). Meeresalgen. Ein Farbbildführer zu den verbreiteten benthischen Grün- Braun- und Rotalgen der Weltmeere. pp. [1]-596, pls 1-266 (colour photographs). Ruggell: A.R.G. Gantner Verlag.
Cormaci, M., Furnari, G., & Alongi, G. (2014). Flora marina bentonica del Mediterraneo: Chlorophyta. Bollettino dell'Accademia Gioenia di Scienze Naturali di Catania 47: 11-436.
Dawes, C.J. & Mathieson, A.C. (2008). The seaweeds of Florida. pp. [i]- viii, [1]-591, [592], pls I-LI. Gainesville, Florida: University Press of Florida.
Delnatte, C. & Wynne, M.J. (2016). A revised checklist of marine algae and seagrasses of Martinique, French West Indies. Nova Hedwigia 102(3/4): 415-440, 1 fig.
Ding, L. & Luan, R. (2013). Flora algarum marinarum sinicarum Tomus IV Chlorophyta No. I Ulotrichales Chaetophorales, Phaeophilales, Ulvales, Acrosiphoniales. pp. [i]-xxi, 1-173, pls I-VI. Beijing: Science Press.
Funk, G. (1955). Beiträge zur Kenntnis der Meeresalgen von Neapel: Zugleich mikrophotographischer Atlas. Pubblicazioni della Stazione Zoologica di Napoli 25(Suppl.): i-x , 1-178, 36 figs.
Heesch, S., Broom, J.E.S., Neill, K.F., Farr, T.J., Dalen, J.L. & Nelson, W.A. (2009). Ulva, Umbraulva and Gemina: genetic survey of New Zealand taxa reveals diversity and introduced species. European Journal of Phycology 44(2): 143-154, 2 figs, 4 tables.
Huisman, J.M., Abbott, I.A., Smith, C.M. (2007). Hawaiian reef plants. pp. [1]-264, numerous colour photographs. Honolulu: A publication of the University of Hawai'i Sea Grant College Program.
Joly, A.B. (1965). Flora marinha do litoral norte do estado de Saõ Paulo e regiões circunvizinhas. Boletim de Faculdade de Filosofia, Ciências e Letras, Universidade de São Paulo, Botânica 21: 5-393, 11 figs, 59 plates, maps 1 + A-C.
Kirkendale, L., Saunders, G.W. & Winberg, P. (2013). A molecular survey of Ulva (Chlorophyta) in temperate Australia reveals enhanced levels of cosmopolitanism. Journal of Phycology 49(1): 69-81.
Krupnik, N., Rinkevich, B., Paz, G., Douek, J., Lewinsohn, E., Israel, A., Carmel, N., Mineur, F. & Maggs, C.A. (2018). Native, invasive and cryptogenic Ulva species from the Israeli Mediterranean Sea: risk and potential. Mediterranean Marine Science 19(1): 132-146, 10 figs.
Matsumoto, K. & Shimada, S. (2015). Systematics of green algae resembling Ulva conglobata, with a description of Ulva adhaerens sp. nov. (Ulvales, Ulvophyceae). European Journal of Phycology 50(1): 100-111.
Miladi, R., Manghisi, A., Armeli Minicante, S.. Genovese, G., Abdelfkafi, S. & Morabito, M. (2018). A DNA barcoding survey of Ulva (Chlorophyta) in Tunisia and Italy reveals the presence of the overlooked alien U. ohnoi. Cryptogamie Algologie 39(1): 85-107.
O'Kelly, C.J., Kurihara, A., Shipley, T.C. & Sherwood, A.R. (2010). Molecular assessment of Ulva spp. (Ulvophyceae, Chlorophyta) in the Hawaiian Islands. Journal of Phycology 46(4): 728-735.
Rodríguez-Prieto, C., Ballesteros, E., Boisset, F. & Afonso-Carrillo, J. (2013). Guía de las macroalgas y fanerógamas marinas del Mediterráneo occidental. pp. [1]-656. Barcelona: Ediciones Omega, S.A..
Sfriso, A. (2011). Chlorophyta multicellulari e fanerogame acquatiche. Ambiente di transizione italiani e litorali adiacenti. pp. [1]-318, pls 1-94. Bologna: Arpa Emilia-Romagna.
Shimada, S., Hiraoka, M., Nabata, S., Lima, M. & Masuda, M. (2003). Molecular phylogenetic analyses of the Japanese Ulva and Enteromorpha (Ulvales, Ulvophyceae), with special reference to the free-floating Ulva. Phycological Research 51(2): 99-108.
Titlyanov E.A., Titlyanova T.V. & Belous O.S. (2016). Useful marine plants of the Asia-Pacific Region countries. pp. 1-348, Many col. photo. Vladivostok: Dalnauka. [in Russian and English]
Titlyanov, E.A. & Titlyanov, T.V. (2012). Marine plants of the Asian Pacific Region countries, their use and cultivation. pp. [1]-376, many col. photographs. Vladivostok: Dalnauka & A.V. Zhirmunsky Institute of Marine Biology Far East Branch of the Russian Academy of Sciences. [in Russian]
Verlaque, M., Ruitton, S., Mineur, F. & Boudouresque, C.-F. (2015). CIESM atlas of exotic species of the Mediterranean. Macrophytes. pp. [1]-362, many photographs and maps. Monaco: CIESM Publishers.
Created: 07 September 1996 by M.D. Guiry
Verified by: 22 May 2020 by M.D. Guiry
Accesses: This record has been accessed by users 18809 times since it was created.
Verification of data
Users are responsible for verifying the accuracy of information before use, as noted on the website Content page.
References
(Please note: only references with the binomials in the title are included. The information is from the Literature database.)

Aguilar-Rosas, R., Aguilar-Rosas, L.E. & Pedroche, F.F. (2005). Ulva fasciata Delile (Ulvaceae, Chlorophycota): a species newly introduced into Pacific Mexico . Botanica Marina 48: 46-51.
Alamsjah, M.A., Hirao, S., Ishibashi, F., Oda, T. & Fujita, Y. (2009). Algicidal activity of polyunsaturated fatty acids derived from Ulva fasciata and U. pertusa (Ulvaceae, Chlorophyta) on phytoplankton. Proceedings of the International Seaweed Symposium 19: 263-270, 1 fig, 6 tables.
Beer, S. & Bjork, M. (1994). Photosynthetic properties of protoplasts, as compared with thalli, of Ulva fasciata (Chlorophyta). Journal of Phycology 30: 633-637, 2 figs, 3 tables.
Beer, S., Israel, A., Drechsler, Z. & Cohen, Y. (1990). Photosynthesis in Ulva fasciata .5. Evidence for an inorganic Carbon concentrating system, and ribulose-1,5-bisphosphate carboxylase oxygenase CO2 kinetics. Plant Physiol 94(4): 1542-1546.
Chen, Y.-C. & Shih, H.-C. (2000). Development of protoplasts of Ulva fasciata (Clorophyta) for algal seed stock. Journal of Phycology 36: 608-615.
Chen, Y.-C. (2011). The hormesis of the green macroalga Ulva fasciata with low-dose 60cobalt gamma radiation. Journal of Phycology 47(4): 939-943.
Gayral, P. (1964). Résultats concernant la reproduction et la culture en laboratoire d'Ulva fasciata Delile.. Proceedings of the International Seaweed Symposium 4: 79-88.
Hsu, Y.-T. & Lee, T.-M. (2010). Photosynthetic electron transport mediates the light-controlled up-regulation of expression of methionine sulfoxide reductase A and B from marine macroalga Ulva fasciata. Journal of Phycology 46(1): 112-122.
Kajimura, M. (1973). On Ulva fasciata Delile from Shimane Prefecture. Bulletin of the Japanese Society for Phycology 21: 29-32. [in Japanese]
Lapointe, B.E. & Tenore, K.R. (1981). Experimental outdoor studies with Ulva fasciata Delile I. Interaction of light and nitrogen on nutrient uptake, growth, and biochemical composition. Journal of Experimental Marine Biology and Ecology 53: 135-152.
Lee, T.-M., Huang, Y.-L. & Chen, M.-H. (2005). Copper induction of phosphorus deficiency in Ulva fasciata (Ulvales, Chlorophyta). Phycologia 44: 620-628.
Michael, T.S. (2009). Glycoconjugate organization of Enteromorpha (=Ulva) flexuosa and Ulva fasciata (Chlorophyta) zoospores. Journal of Phycology 45(3): 660-677, 8 figs, 1 table.
Mshigeni, K.E. & Kajumulo, A.A. (1979). Effects of the environment on polymorphism in Ulva fasciata Delile (Chlorophyta, Ulvaceae). Botanica Marina 22: 145-148, 4 figs.
Oza, R.M. & Sreenivasa Rao, P. (1977). Effect of different culture media on growth and sporulation of laboratory raised germlings of Ulva fasciata Delile. Botanica Marina 20: 427-431, 2 figs, 1 table.
Oza, R.M., Joshi, H.V., Mairh, O.P. & Tewari, A. (1985). Swarmer production and cultivation of Ulva fasciata Delile in intertidal regions at Okha, west coast of India. Indian Journal of Marine Sciences 14: 217-219, 3 figs.
Sarma, Y.S.R.K. & Chaudhary, B.R. (1975). An investigation on the cytology of Ulva fasciata Delile. Botanica Marina 18: 179-181.
Sharma, M., Garg, H.S. & Chandra, K. (1996). Erythro-sphinga-4,8-dienene-N-palmitate: an antiviral agent from the green alga Ulva fasciata. Botanica Marina 39: 213-215.
Shefer, S., Israel, A., Golberg, A. & Chudnovsky, A. (2017). Carbohydrate-based phenotyping of the green macroalga Ulva fasciata using near-infrared spectrometry: potentia implications for marine biorefinery. Botanica Marina 60(2): 219-228.
Shin, H.-W. & Smith, C.M. (1996). Characterization of light-harvesting pigments in spores of Ulva fasciata Delile. Algae 11(3): 309-315, 5 figs, 2 tables.
Shin, H.-W. & Smith, C.M. (1996). Impact of physical factors on periodic reproduction for Hawaiian algae Ulva fasciata Delile and Enteromorpha intestinalis (L.) Link. Algae 11(3): 325-332, 2 figs, 4 tables.
Shin, H.-W. (1998). Antifouling action of zosteric acid and copper on spores of Ulva fasciata Delile. Algae 13(2): 271-274, 2 figs, 1 table.
Stirk, W.A., Novák, O., Hradecká, V., Pencik, A., Rolcik, J., Strnad, M. & van Staden, J. (2009). Endogenous cytokinins, auxins and abscisic acid in Ulva fasciata (Chlorophyta) and Dictyota humifusa (Phaeophyta): towards understanding their biosynthesis and homoeostasis. European Journal of Phycology 44(2): 231-240, 4 figs, 1 table.
Subbaramaiah, K. (1970). Growth and reproduction of Ulva fasciata Delile in nature and in culture. Botanica Marina 13: 25-27.
Sung, M.-S., Chow, T.-J. & Lee, T.M. (2011). Polyamine acclimation alleviates hypersalinity-induced oxidative stress in a marine green macroalga, Ulva fasciata, by modulation of antioxidative enzyme gene expression. Journal of phycology 47(3): 538-547.
Usmanghani, K. (1986). Studies on fatty acids of a green alga Ulva fasciata from Karachi coast. In: Prospects for Biosaline Research. Proceedings of US-Pakistan Biosaline Research Workshop, Karachi, Pakistan. (Ahmad, R. & San Pietro, A. Eds), pp. 527-531. Karachi: Department of Botany, University of Karachi.
Wu, T.M. & Lee, T.M. (2008). Regulation of activity and gene expression of antioxidant enzymes in Ulva fasciata Delile (Ulvales, Chlorophyta) in response to excess copper. Phycologia 47: 346-360.

Linking to this page: http://www.algaebase.org/search/species/detail/?species_id=1065
Citing AlgaeBase
Cite this record as:
M.D. Guiry in Guiry, M.D. & Guiry, G.M. 2020. AlgaeBase. World-wide electronic publication, National University of Ireland, Galway. http://www.algaebase.org; searched on 25 September 2020.