Achnanthes brevipes C.
Agardh

, nom. illeg.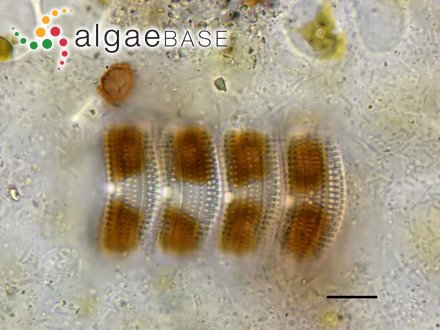 Publication details
Achnanthes brevipes C.Agardh 1824: 1, nom. illeg.
Published in: Agardh, C.A. (1824). Systema algarum. pp. [i]-xxxvii, [1]-312. Lundae [Lund]: Literis Berlingianis [Berling].

Download PDF
Publication date: probably September 1824
Type species
The type species (lectotype) of the genus Achnanthes is Achnanthes adnata Bory.
Origin of species name
Adjective (Latin), short-footed.
Homotypic Synonym(s)
Achnantella brevipes (Agardh) Gaillon 1833
Achnanthidium brevipes (C.Agardh) Heiberg 1863

Heterotypic Synonym(s)
Achnanthes recava Hohn & Hellerman 1966

Nomenclatural notes
New name. Illegitimate: unwarranted change of epithet for Achnanthes adnata Bory 1822 (INA). - (16 Jul 2015) - Wendy Guiry
Toyoda et al. (2005) advocate that the name Achnanthes brevipes be conserved against Echinella stiptata Lyngbe. "We propose that the name Acnanthes Bory be conserved with Echinella stipitata Lyngbe as its type, and designate the Lyngbye's material (A-2348) as the lectotype. However, because changing the specific epithet to either stipitata or adnata would introduce confusion into the literature,...we also propose that the name Achnanthes brevipes be conserved. A formal proposal will be submitted to Taxon" (Toyoda et al., 2005: 383). However, Cox (2006: 68) states that A. brevipes is a synonym of A. adnata. - (29 Jul 2016) - Wendy Guiry
General environment
This is a marine/freshwater species.
Type information
Type locality: in Hutchinsia violacea (Polysiphonia fucoides), Scytosiphone in sinu Othiniensi, Odense, Denmark (Toyoda et al. 2005: 383). Lectotype: C A-2348 (Toyoda et al. 2005: 383). Notes: Lectotype: C (A-2348). Isotypes: C (A2349); BM 101105, BM 1011106. In mari Boreali (INA).
Detailed distribution with sources
(as Achnanthes brevipes C.Agardh)
Arctic: Svalbard (Spitsbergen) (Skulberg 1996).

Europe: Adriatic Sea (Vilicic, Marasovic & Miokovic 2002), Albania (Miho & Witkowski 2005, Somogyi et al. 2013), Baltic Sea (Hällfors 2004), Black Sea (BSPC Editorial Board 2014, Balycleva & Ryabushko 2017), Bosnia-Hertzegovina (Hafner, Jasprica & Car 2018), Britain (Hustedt & Aleem 1951, Hendey 1954, Hendey 1974, Hartley 1986, Sims 1996, Whitton et al. 2003), Crimea (Ryabushko, Lishaev & Kovrigina 2019), Croatia (Vilicic et al. 2009), France (Anon. 2017), Georgia (Barinova et al. 2011), Germany (Ludwig & Schnittler 1996, Rumrich, Lange-Bertalot & Rumrich 2000, Mauch & Schmedtje 2003, Scholz & Liebezeit 2012, Täuscher 2014, Täuscher 2016, Hofmann et al. 2018), Ireland (Adams 1908, Foged 1977, Wolnik & Carter 2014), Macedonia (Levkov & Williams 2012), Netherlands (Veen et al. 2015), Poland (Bąk et al. 2012), Portugal (Moita & Vilarinho 1999), Romania (Caraus 2002, Caraus 2012, Caraus 2017), Scandinavia (Karlason et al. 2018), Slovakia (Hindák & Hindáková 2016, Hindák & Hindáková 2016), Spain (Varela 1982, Álvarez Cobelas & Estévez García 1982, Aboal 1986, Aboal 1987, Tomás 1987, Aboal 1988a, Aboal 1989b, Aboal, Marín & Zafra 2003, Marín-Murcia & Aboal 2004, Ros, Marín-Murcia & Aboal 2009), Turkey (Europe) (Balkis 2004, Aysel 2005), Ukraine (Bukhtiyarova 1999, Bukhtiyarova 1999), Venice Lagoon (Tolomio et al. 2002).

Atlantic Islands: Canary Islands (Gil-Rodríguez et al. 2003, Ojeda Rodríguez, Gil-Rodríguez & Moreira-Reyes 2005, Anon. 2011, Afonso-Carrillo 2014), Madeira (Kaufmann, Santos & Maranhão 2015).

North America: Arkansas (AR) (Smith 2010), Canada (Mather et al. 2010), Great Lakes (Stoermer, Kreis & Andresen 1999), Mexico (López-Fuerte & Siqueiros-Beltrones 2016), North Carolina (NC) (Hustedt 1955), Northwest Territories (Sheath & Steinman 1982), Nova Scotia (Kim, Garbary & McLachlan 2004), NW USA (Bahls 2009), United States of America (Kociolek 2005), Virginia (VA) (Adey et al. 2013).

Caribbean Islands: Cuba (Comas González 2009).

South America: Brazil (Eskinazi-Leça et al. 2010, Costa et al. 2016), Colombia (Lozano-Duque, Vidal & Navas S 2011).

Africa: Egypt (Zalat 2002, Nassar & Khairy 2014, Nassar & Kham 2014, Khairy et al. 2017), South Africa (Giffen 1967), Sudan (Reinhold 1937).

South-west Asia: Iran (Nejadsattari 2005), Iraq (Maulood et al. 2013), Israel (Barinova, Tavassi & Glassman 2009), Kuwait (Al-Kandari, Al-Yamani & Al-Rifaie 2009).

Asia: China (Liu 2008, Cheng & Gao 2012), Korea (Lee, Choi & Lee 1995), Mongolia (Edlund et al. 2001), Russia (Kulikovskiy et al. 2016), Russia (Far East) (Medvedeva & Nikulina 2014), Taiwan (Shao 2003-2014, Shao 2003-2014), Tajikistan (Barinova, Boboev & Hisoriev 2015, Niyatbekov & Barinova 2018), Turkey (Asia) (Varol & Sen 2014).

South-east Asia: Malaysia (Zong & Hassan 2004).

Australia and New Zealand: Australia (McCarthy 2013), New Zealand (Chapman, Thompson & Segar 1957), Northern Territory (Day et al. 1995), Queensland (Day et al. 1995, John 2016), Tasmania (John 2018), Victoria (Day et al. 1995).

Pacific Islands: Guam (Lobban et al. 2012).

Antarctic and Antarctic islands: Antarctica/Subantarctic Islands (Cunningham & McMinn 2004, Scott & Thomas 2005).

(as Achnanthidium brevipes (C.Agardh) Heiberg)
Europe: Turkey (Europe) (Aysel 2005).

(as Achnanthes recava Hohn & Hellerman)
North America: Maryland (MD) (Hohn & Hellermann 1966).

Key references
Cheng Zhaodi & Gao Yahui [Cheng, Z.D. & Gao, Y.H.] (2012). Flora algarum marinarum sinicarum. Tomus V. Bacillariophyta No. I. Centricae. pp. [i-viii], i-xxvi, 1-137 plus 35 pls. Beijing: Science Press.
Cox, E.J. (2006). Achnanthes sensu stricto belongs with genera of the Mastogloiales rather than with other monoraphid diatoms (Bacillariophyta). European Journal of Phycology 41: 67-81.
Day, S.A., Wickham, R.P., Entwisle, T.J. & Tyler, P.A. (1995). Bibliographic check-list of non-marine algae in Australia. Flora of Australia Supplementary Series 4: i-vii, 1-276.
Edlund, M.B., Soninkhishig, N., Williams, R.M. & Stoermer, E.F. (2001). Biodiversity of Mongolia: checklist of diatoms, including new distributional reports of 31 taxa. Nova Hedwigia 72: 59-90, 72 figs.
Hendey, N.I. (1964). An introductory account of the smaller algae of British coastal waters. Part V: Bacillariophyceae (diatoms). pp. [i]-xxii, 1-317. London: Ministry of Agriculture, Fisheries and Food, Fishery Investigations. Her Majesty's Stationery Office.
Hustedt, F. (1930). Bacillariophyta (Diatomeae) Zweite Auflage. In: Die Süsswasser-Flora Mitteleuropas. Heft 10. (Pascher, A. Eds), pp. [i]-vii, [1]-466. Jena: Verlag von Gustav Fischer.
John, J. (2016). Diatoms from Stradbroke and Fraser Islands, Australia: taxonomy and biogeography. The diatom flora of Australia Volume 1. pp. [1]-377, 258 figs. Schmitten - Oberreifenberg: Koeltz Botanical Books.
John, J. (2018). Diatoms from Tasmania: taxonomy and biogeography. The diatom flora of Australia Volume 2. pp. [1]-656, 351 figs. Schmitten - Oberreifenberg: Koeltz Botanical Books.
Kulikovskiy, M., Glushchenko, A.M., Kuznetsova, I.V. & Genkal, S.I. (2016). [Identification book of diatoms from Russia]. pp. [1]-804, 165 pls. Yaroslavl: Filigran. [in Russian]
Pankow, H. (1976). Algenflora der Ostsee. II. Plankton (einschliesslich benthischer Kieselalgen). pp. 1-493, 880 figs, 26 pls. Jena: Gustav Fischer.
Plinski, M. & Witkowski, A. (2011). Okrzemki – Bacillariophyta (Diatoms) (with the English key for the identification to the genus) Cz. 4/2: Okrzemki pierzaste (Fragilariophyceae, Eunotiophyceae, Achnanthales) Part two: Pennate diatoms - I). In: Flora Zatoki Gdanskiej i wód przyleglych (Baltyk poludniowy). : [1]-167, plus 4 pls, 4 photo.
Proschkina-Lavrenko, A.I. (1950). Diatomovyi Analiz, Kniga 3. Opredelitel' iskopaemykh i sovremennykh diatomik vodoroslei Poriadok Pennales. Botanicheskii Institut im V.L. Komarova Akademii Nauk S.S.S.R. Gosudarstvennoe Izdatelystvo Geologicheskoi Literatury 3(1): [1]-398, 117 pls. [in Russian]
Saunders, K., Lane, C., Cook, S., McMinn, A. & Hallaegraeff, G.M. (2010). Benthic diatoms. In: Algae of Australia. Phytoplankton of temperate waters . (Hallegraeff, G.M., Bolch, C.J.S., Hill, D.R.A., Jameson, I, LeRoi, J.-M., McMinn, A., Murray, S., de Salas, M.F. & Saunders, K. Eds), pp. 83-144. Canberra & Melbourne: ABRS; CSIRO Publishing.
Scott, F.J. & Thomas, D.P. (2005). Diatoms. In: Antarctic marine protists. (Scott, F.J. & Marchant, H.J. Eds), pp. 13-201. Canberra & Hobart: Australian Biological Resources Study; Australian Antarctic Division.
Sims, P.A. (ed.) (1996). An atlas of British diatoms arranged by B. Hartley based on illustrations by H.G. Barber and J.R. Carter. pp. [2], 1-601, incl. 290 pls. Bristol: Biopress Ltd.
Toyoda, K., Cox, E.J., Sims, P.A., & Williams, D.M. (2005). The typification of Achnanthes Bory based on Echinella stipitata Lyngbye, with an account of the morphology and fine structure of Lyngbye's species. Diatom Research 20(2): 375-386.
Created: 11 April 2002 by M.D. Guiry
Verified by: 03 September 2019 by M.D. Guiry
Accesses: This record has been accessed by users 4132 times since it was created.
Verification of data
Users are responsible for verifying the accuracy of information before use, as noted on the website Content page.
References
(Please note: only references with the binomials in the title are included. The information is from the Literature database.)
Guerrini, F., Cangini, M., Boni, L., Trost, P. & Pistocchi, R. (2000). Metabolic responses of the diatom Achnanthes brevipes (Bacillariophyceae) to nutrient limitation. Journal of Phycology 36: 882-890.

Linking to this page: http://www.algaebase.org/search/species/detail/?species_id=30860
Citing AlgaeBase
Cite this record as:
M.D. Guiry in Guiry, M.D. & Guiry, G.M. 2019. AlgaeBase. World-wide electronic publication, National University of Ireland, Galway. http://www.algaebase.org; searched on 18 November 2019.