Cocconeis scutellum
Ehrenberg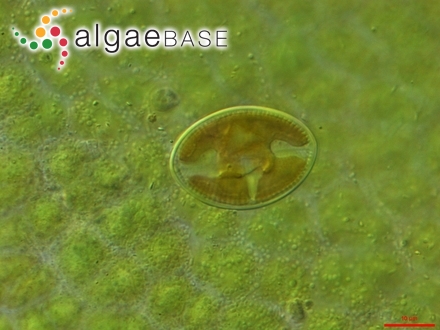 Cocconeis scutellum Ehrenberg Bainbridge Island, Washington, USA; Faye Bainbridge State Park, 1000x, d.b. Dr. Eduardo Firpo and Dr. Diane Winter, DIC
© Karl Bruun
Publication details
Cocconeis scutellum Ehrenberg 1838: 194, pl. 14: fig. 18
Published in: Ehrenberg, C.G. (1838). Atlas von Vier und Sechzig Kupfertafeln ze Christian Gottfried Ehrenberg über Infusionsthierchen. pp. pls I-LXIV. Leipzig: Verlag von Leopold Voss.

Download PDF
Type species
This is the type species (lectotype) of the genus Cocconeis.
Status of name
This name is of an entity that is currently accepted taxonomically.
Origin of species name
Noun (Latin), diminutive of scutum, a shield; literally, little shield (Brown 1956).
Heterotypic Synonym(s)
Cocconeis scutellum var. genuina Cleve 1895

Taxonomic notes
Included in Miscoe et al. (2016: 21) as "cf.". - (13 Jun 2016) - M.D. Guiry
Habitat notes
Cosmopolitan, epiphytic and benthic, occurring in marine and brackish water environments. Rare on Desmarestia anceps and Geminocarpus sp. (Al-Handal & Wulff 2008). - (6 May 2010) - Wendy Guiry
General environment
This is a marine species.
Type information
Type locality: Wismar in Mecklenburg; Gothenburg; Polirschiefer des Habichtwaldes bei Cassel (fossil) (Silva 1996-to date).
Detailed distribution with sources
(as Cocconeis scutellum Ehrenberg)
Arctic: Arctic Russia (Tsoy & Obrezkova 2017), Svalbard (Spitsbergen) (Skulberg 1996, Caroppo et al. 2017).

Europe: Adriatic Sea (Vilicic, Marasovic & Miokovic 2002), Albania (Miho & Witkowski 2005), Baltic Sea (Hällfors 2004), Black Sea (BSPC Editorial Board 2014, Balycleva & Ryabushko 2017), Bosnia-Hertzegovina (Hafner, Jasprica & Car 2018), Britain (Hustedt & Aleem 1951, Hendey 1954, Hendey 1974, Hartley 1986, Sims 1996), Crimea (Ryabushko, Lishaev & Kovrigina 2019), Croatia (Vilicic et al. 2009, Riaux-Gobin et al. 2018), France (Méléder et al. 2007
, Anon. 2017), Georgia (Barinova et al. 2011), Germany (Ludwig & Schnittler 1996, Ludwig & Schnittler 1996, Mauch & Schmedtje 2003, Scholz & Liebezeit 2012, Täuscher 2014, Täuscher 2016, Hofmann et al. 2018), Greece (Foged 1986), Ireland (Adams 1908, Foged 1977, Wolnik & Carter 2014), Italy (Zupo et al. 2011), Macedonia (Levkov & Williams 2012), Netherlands (Veen et al. 2015), Portugal (Moita & Vilarinho 1999), Romania (Caraus 2002, Caraus 2012, Caraus 2017), Scandinavia (Karlason et al. 2018, Karlason et al. 2018), Slovakia (Hindák & Hindáková 2016), Spain (Varela 1982, Álvarez Cobelas & Estévez García 1982, Pérez, Maidana & Comas 2009), Sweden (Ulanova, Busse, Snoeijs 2009), Ukraine (Bukhtiyarova 1999, Kryvosheia & Kapustin 2019), Venice Lagoon (Tolomio et al. 2002).

Atlantic Islands: Azores (Gonçalves, Marques & Fonseca 2010), Canary Islands (Gil-Rodríguez et al. 2003, Ojeda Rodríguez, Gil-Rodríguez & Moreira-Reyes 2005, Anon. 2011, Afonso-Carrillo 2014), Faroe Islands (Witon & Witkowski 2006), Iceland (Scholz & Einarsson 2015), Madeira (Kaufmann, Santos & Maranhão 2015).

North America: Alaska (AK) (Saunders 1901, Foged 1981), Canada (Mather et al. 2010), Great Lakes (Stoermer, Kreis & Andresen 1999), Mexico (López-Fuerte & Siqueiros-Beltrones 2016, López-Fuerte & Siqueiros-Beltrones 2016), Mexico (Caribbean) (Merino-Virgilio et al. 2013, Licea, Moreno-Ruiz & Luna 2016), Mexico (Pacific) (Torres-Ariño et al. 2019), Mississippi (MS) (Sullivan 1981), North Carolina (NC) (Hustedt 1955), Northwest Territories (Sheath & Steinman 1982), Nova Scotia (Kim, Garbary & McLachlan 2004), NW USA (Bahls 2009), United States of America (Kociolek 2005).

South America: Argentina (Garibotti et al. 2011), Brazil (Eskinazi-Leça et al. 2010, Costa et al. 2016), Colombia (Lozano-Duque, Vidal & Navas S 2011).

Africa: Senegal (Sow & Diene 2002), South Africa (Giffen 1967).

Middle East: Egypt (Zalat 2002, Khairy et al. 2017), Iraq (Al-Saboonchi, A.A. & Al-Shawi, I.J.M.), Kuwait (Al-Kandari & Suburova 2019), Turkey (Aysel 2005, Taskin (ed.) et al. 2019).

South-west Asia: Lebanon (Lakkis 2013).

South-east Asia: Malaysia (Zong & Hassan 2004).

Asia: Caspian Sea (Bagheri & Fallahi 2014), China (Liu 2008, Cheng & Gao 2012), Japan (Sawai et al 2005, Kobayashi et al. 2006), Korea (Lee, Choi & Lee 1995, Joh 2012), Mongolia (Edlund et al. 2001), Russia (Far East) (Medvedeva & Nikulina 2014, Shevchenko et al. 2019), Taiwan (Shao 2003-2014), Tajikistan (Barinova, Boboev & Hisoriev 2015, Niyatbekov & Barinova 2018).

Australia and New Zealand: Australia (McCarthy 2013), Northern Territory (Day et al. 1995), Queensland (John 2016), Tasmania (John 2018).

Pacific Islands: French Polynesia (Riaux-Gobin et al. 2013), Guam (Lobban et al. 2012), Hawaiian Islands (HI) (Sherwood 2004).

Antarctic and Antarctic islands: King George Island (Al-Handal & Wulff 2008).

Key references
Al-Handal, A.Y. & Wulff, A. (2008). Marine epiphytic diatoms from the shallow sublittoral zone in Potter Cove, King George Island, Antarctica. Botanica Marina 51: 411-435.
Cheng Zhaodi & Gao Yahui [Cheng, Z.D. & Gao, Y.H.] (2012). Flora algarum marinarum sinicarum. Tomus V. Bacillariophyta No. I. Centricae. pp. [i-viii], i-xxvi, 1-137 plus 35 pls. Beijing: Science Press.
Day, S.A., Wickham, R.P., Entwisle, T.J. & Tyler, P.A. (1995). Bibliographic check-list of non-marine algae in Australia. Flora of Australia Supplementary Series 4: i-vii, 1-276.
De Stefano, M., Romero, O.E. & Totti, C. (2008). A comparitive study of Cocconeis scutellum Ehrenberg and its varieties (Bacillariophyta). Botanica Marina 51: 506-536.
Hustedt, F. (1930). Bacillariophyta (Diatomeae) Zweite Auflage. In: Die Süsswasser-Flora Mitteleuropas. Heft 10. (Pascher, A. Eds), pp. [i]-vii, [1]-466. Jena: Verlag von Gustav Fischer.
Hustedt, F. (1939). Die Diatomeenflora des Küstengebietes der Nordsee vom Dollart bis zur Elbemündung. I. Die Diatomeenflora in den Sedimenten der unteren Ems sowie auf den Watten in der Leybucht, des Memmert und bei der Insel Juist. Adhandlungen des Naturwissenschaftlichen Verein zu Bremen 31(2/3): 571-677, 123 figs.
Joh, G. (2012). Algal flora of Korea. Volume 3, Number 7. Chrysophyta: Bacillariophyceae: Pennales: Raphidineae: Acananthaceae. Freshwater diatoms V. pp. [1-6] 1-134, figs 1-15. Incheon: National Institute of Biological Resources.
John, J. (2016). Diatoms from Stradbroke and Fraser Islands, Australia: taxonomy and biogeography. The diatom flora of Australia Volume 1. pp. [1]-377, 258 figs. Schmitten - Oberreifenberg: Koeltz Botanical Books.
John, J. (2018). Diatoms from Tasmania: taxonomy and biogeography. The diatom flora of Australia Volume 2. pp. [1]-656, 351 figs. Schmitten - Oberreifenberg: Koeltz Botanical Books.
Kim, K.Y., Garbary D.J. & McLachlan, J.L. (2004). Phytoplankton dynamics in Pomquet Harbour, Nova Scotia: a lagoon in the southern Gulf of St. Lawrence. Phycologia 43: 311-328.
Kobayashi, H., Idei, M., Mayama, S., Nagumo, T. & Osada, K. (2006). Kobayashi hiromu keiso zukan. H.Kobayasi's atlas of Japanese diatoms based on electron microscopy. dai 1kan. pp. [1]-531, 180 pls. Tokyo: Uchida Rokakuho Publishing Co., Ltd. [in Japanese]
Miscoe, L.H., Johansen, J.R., Kociolek, J.P. & Lowe, R.L. (2016). The diatom flora and cyobacteria from caves on Kauai, Hawaii. I. Investigation of the cave diatom flora of Kanuai, Hawaii: an emphasis on taxonomy and distribution. Bibliotheca Phycologica 123: 3-74.
Pankow, H. (1976). Algenflora der Ostsee. II. Plankton (einschliesslich benthischer Kieselalgen). pp. 1-493, 880 figs, 26 pls. Jena: Gustav Fischer.
Plinski, M. & Witkowski, A. (2011). Okrzemki – Bacillariophyta (Diatoms) (with the English key for the identification to the genus) Cz. 4/2: Okrzemki pierzaste (Fragilariophyceae, Eunotiophyceae, Achnanthales) Part two: Pennate diatoms - I). In: Flora Zatoki Gdanskiej i wód przyleglych (Baltyk poludniowy). : [1]-167, plus 4 pls, 4 photo.
Proschkina-Lavrenko, A.I. (1950). Diatomovyi Analiz, Kniga 3. Opredelitel' iskopaemykh i sovremennykh diatomik vodoroslei Poriadok Pennales. Botanicheskii Institut im V.L. Komarova Akademii Nauk S.S.S.R. Gosudarstvennoe Izdatelystvo Geologicheskoi Literatury 3(1): [1]-398, 117 pls. [in Russian]
Riaux-Gobin, C., Romero,O.E., Coste, M. & R.Galzin (2013). A new Cocconeis (Bacillariophyceae) from Moorea Island, Society Archipielago, South Pacific Ocean with distinctive valvocopula morphology and linking system. Botanica Marina 56(4): 339-356, 57 fig., 1 table.
Sawai, Y., Nagumo, T. & Toyoda, K. (2005). Three extant species of Paralia (Bacillariophyceae) along the coast of Japan. Phycologia 44(5): 517-529.
Sims, P.A. (ed.) (1996). An atlas of British diatoms arranged by B. Hartley based on illustrations by H.G. Barber and J.R. Carter. pp. [2], 1-601, incl. 290 pls. Bristol: Biopress Ltd.
Villac, M.C., Kaczmarska, I. & Ehrman, J.M. (2016). Diatoms from ship ballast sediments (with consideration of a few additional species of special interest). Diatom Monographs 18: [1]-557, 235 pls.
Witkowski, A., Lange-Bertalot, H. & Metzeltin, D. (2000). Diatom flora of marine coasts I. Iconographia Diatomologica 7: 1-925, 219 pls with 4504 figs.
Witon, E. & Witkowski, A. (2006). Holocene diatoms (Bacillariophyceae) from Faeroe Islands Fjords, Northern Atlantic Ocean. II. Distribution and taxonomy of marine taxa with special reference to benthic forms. Diatom Research 21(1): 175-215.
Created: 11 April 2002 by M.D. Guiry
Verified by: 09 January 2020 by M.D. Guiry
Accesses: This record has been accessed by users 5825 times since it was created.
Verification of data
Users are responsible for verifying the accuracy of information before use, as noted on the website Content page.
References
(Please note: only references with the binomials in the title are included. The information is from the Literature database.)
De Stefano, M., Romero, O.E. & Totti, C. (2008). A comparitive study of Cocconeis scutellum Ehrenberg and its varieties (Bacillariophyta). Botanica Marina 51: 506-536.
Mizuno, M. & Okuda, K. (1985). Seasonal change in the distribution of cell size of Cocconeis scutellum var ornata (Bacillariophyceae) in relation to growth and sexual reproduction. Journal of Phycology 21: 547-553, 8 figs, 1 table.
Mizuno, M. (1987). Morphological variation of the attached diatom Cocconeis scutellum var. scutellum (Bacillariophyceae). Journal of Phycology 23: 591-597, 9 figs, 6 tables.
Zupo, V., Patalano, C. & Messina, P. (2011). Culture conditions influence the growth dynamics and the production of Cocconeis scutellum (Bacillariophyta). Journal of Phycology 47(6): 1433-1444.

Linking to this page: http://www.algaebase.org/search/species/detail/?species_id=31169
Citing AlgaeBase
Cite this record as:
M.D. Guiry in Guiry, M.D. & Guiry, G.M. 2020. AlgaeBase. World-wide electronic publication, National University of Ireland, Galway. http://www.algaebase.org; searched on 19 February 2020.