Cladophora vagabunda (
Linnaeus

) Hoek 1963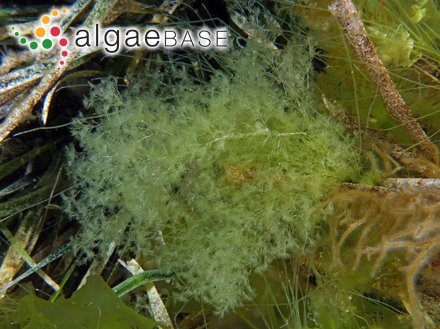 Publication details
Cladophora vagabunda (Linnaeus) Hoek 1963: 144, figs 434, 436-439, 470-503, 505-514
Published in: Hoek, C. van den (1963). Revision of the European species of Cladophora. pp. [i]-vii, [1]-248, 1 fig., 55 pls, 18 maps. Leiden: E.J. Brill.
Type species
The type species (lectotype) of the genus Cladophora is Cladophora oligoclona (Kützing) Kützing.
Status of name
This name is of an entity that is currently accepted taxonomically.
Basionym
Conferva vagabunda Linnaeus
Type information
Lectotype locality: Selsey, Sussex, England (Silva & al. 1996: 782). Lectotype: salt marsh. herb. Dillenius, OXF (Lipkin & Silva 2002: 57). Notes: Silva et al. recommend consulting van den Hoek (1963: 144) for further information regarding the lectotype locality of this species.
Origin of species name
(Latin), to wander (Dawes & Mathieson 2008).
Homotypic Synonym(s)
Conferva vagabunda Linnaeus 1753
Ceramium vagabundum (Linnaeus) Roth 1800

Heterotypic Synonym(s)
Ceramium densum Roth 1800
Conferva expansa Mertens ex Jürgens 1817
Conferva glomerata var. rigida C.Agardh 1817
Conferva fascicularis Mertens ex C.Agardh 1824
Conferva heterochloa C.Agardh 1824
Conferva pulverulenta Mertens ex Jürgens 1824
Conferva bruzelii C.Agardh 1824
Conferva ceratina Kützing 1836
Cladophora fascicularis (Mertens ex C.Agardh) Kützing 1843
Cladophora expansa (Mertens) Kützing 1843
Cladophora heterochloa (C.Agardh) Kützing 1843
Cladophora aegaea Kützing 1843
Cladophora ceratina Kützing 1845
Cladophora flaccida Kützing 1845
Cladophora flavida var. virescens Kützing 1845
Cladophora densa (Roth) Kützing 1845
Conferva lutescens (Kützing) Zanardini 1847
Conferva densa (Roth) Rabenhorst 1847
Conferva implicata Zanardini 1847
Conferva incrustata Zanardini 1847
Cladophora utriculosa var. aegaea (Kützing) Kützing 1849
Cladophora mauritiana Kützing 1849
Cladophora brachyclona Montagne ex Kützing 1849
Cladophora tenerrima Kützing 1849
Cladophora heteropsis Kützing 1849
Cladophora flavovirens Kützing 1849
Cladophora utriculosa var. cartilaginea Kützing 1849
Cladophora penicillata Kützing 1853
Aegagropila flaccida (Kützing) Kützing 1854
Cladophora sulphurea Zanardini ex Frauenfeld 1855
Cladophora rupestris f. gracilior Suringar 1857
Cladophora uncinella Harvey 1860
Cladophora implicata (Zanardini) Bertoloni 1862
Cladophora zostericola Martens 1866
Cladophora inserta Dickie 1876
Cladophora daveyana Reinbold 1899
Cladophora expansa var. glomerata Thuret ex Collins 1902
Cladophora mauritiana var. ungulata Brand 1904
Cladophora heteronema f. sanvicensis Brand 1904
Cladophora glomerata var. pusilla Brand 1904
Cladophora elegans f. major Brand 1904
Cladophora pinniger Setchell 1924
Cladophora inserta f. ungulata (Brand) Setchell 1926
Cladophora inserta f. typica Setchell 1926
Cladophora monumentalis Børgesen 1935
Cladophora divergens Schiffner 1937
Cladophora adriatica Schiffner 1938
Cladophora fuscescens var. decipiens Schiffner 1938
Cladophora lagunarum var. prolifera Schiffner 1938
Cladophora penicillata var. gracilis Schiffner 1938
Cladophora subnuda Schiffner 1938
Cladophora pulverulenta (Mertens) Phinney 1945

Taxonomic notes
John et al. (2004) cite Cladophora penicillata Kütz as a synonym of this species.
Distributional notes
Widespread in warm and warm-temperate waters (Lipkin & Silva 2002). - (17 Jun 2010) - Wendy Guiry
General environment
This is a marine species.
Detailed distribution with sources (Click to Load)

Key references
Abbott, I.A., Fisher, J. & McDermid, K.J. (2002). Newly reported and revised marine algae from the vicinity of Nha Trang, Vietnam. In: Taxonomy of Economic Seaweeds with reference to some Pacific species. Vol. VIII. (Abbott, I.A. & Mcdermid, K.J. Eds) Vol. 8, pp. 291-321. Oceanographic Institute, Nha Trang, Vietnam: California Sea Grant College.
Burova, O.V., Tsarenko, P.M., Kovalenko, O.V., Mikhailyuk, T.I., Petlovany, O.A., Lilitska, G.G. & Bilous, O.P. (2011). Ulvophyceae. In: Algae of Ukraine: diversity, nomenclature, taxonomy, ecology and geography. Volume 3: Chlorophyta. (Tsarenko, P.M., Wasser, S.P. & Nevo, E. Eds), pp. 20-61. Ruggell: A.R.A. Gantner Verlag K.-G.
Burrows, E.M. (1991). Seaweeds of the British Isles. Volume 2. Chlorophyta. pp. [i]-xi, [1]-238, 60 figs, 9 pls. London: Natural History Museum Publications.
Cormaci, M., Furnari, G., & Alongi, G. (2014). Flora marina bentonica del Mediterraneo: Chlorophyta. Bollettino dell'Accademia Gioenia di Scienze Naturali di Catania 47: 11-436.
Coto, A.C.S.P. & Pupo, D. (2009). Flora ficológica do Estado de São Paulo. Vol. 3. Ulvophyceae. pp. [i]-x, [1]-76, 94 figs. São Carlos: RiMa Editora.
Dawes, C.J. & Mathieson, A.C. (2008). The seaweeds of Florida. pp. [i]- viii, [1]-591, [592], pls I-LI. Gainesville, Florida: University Press of Florida.
Hanyuda, T., Wakana, I., Arai, S., Miyaji, K., Watano, Y. & Ueda, K. (2002). Phylogenetic relationships within Cladophorales (Ulvophyceae, Chlorophyta) inferred from 18S rRNA gene sequences with special reference to Aegagropila linnaei. Journal of Phycology 38: 564-571.
Hayakawa, Y., Ogawa, T., Yoshikawa, S., Ohki, K. & Kamiya, M. (2012). Genetic and ecophysiological diversity of Cladophora (Cladophorales, Ulvophyceae) in various salinity regimes. Phycological Research 60: 86-97.
Hoek, C. van den & Chihara, M. (2000). A taxonomic revision of the species of Cladophora (Chlorophyta) along the coasts of Japan and the Russian Far-east. Natural Science Museum [Tokyo] Monographs 19: 1-242, 100 figs.
Hoek, C. van den (1963). Revision of the European species of Cladophora. pp. [i]-vii, [1]-248, 1 fig., 55 pls, 18 maps. Leiden: E.J. Brill.
Hoek, C. van den (1982). A taxonomic revision of the American species of Cladophora (Chlorophyceae) in the North Atlantic Ocean and their geographic distribution. Verhandelingen der Koninklijke Nederlandse Akademie van Wetenschappen, Afdeeling Natuurkunde, Tweede Reeks 78: 1-236, 4 figs, 17 tables, 39 plates, 23 maps.
Huisman, J.M. & Leliaert, F. (2015). Cladophorales. In: Algae of Australia: marine benthic algae of north-western Australia. 1. Green and brown algae. (Huisman, J.M. Eds), pp. 32-67. Canberra & Melbourne: ABRS & CSIRO Publishing.
Huisman, J.M. (2019). Marine plants of Australia Revised edition. pp. [i]-xviii, [1]-435, numerous col. figs. Crawley Western Australia: UWA Publishing.
Huisman, J.M., Abbott, I.A., Smith, C.M. (2007). Hawaiian reef plants. pp. [1]-264, numerous colour photographs. Honolulu: A publication of the University of Hawai'i Sea Grant College Program.
Kim, H.-S., Kwon, C.-J. & Hwang, I.-K. (2010). Caldophorales. In: Algal flora of Korea. Volume 1, Number 1. Chlorophyta: Ulvophyceae: Ulotrichales, Ulvales, Cladophorales, Bryopsidales. Marine green algae. (Bae, E.H., Kim, H.-S., Kwon, C.-J., Hwang, I.-K., Kiim, G.H. & Klochkova, T.A. Eds), pp. 55-154. Incheon: National Institute of Biological Resources.
Kraft, G.T. (2007). Algae of Australia. Marine benthic algae of Lord Howe Island and the southern Great Barrier Reef, 1. Green algae. pp. [i]-vi, 1-347, 110 text-figs; 11 pls. Canberra & Melbourne: Australian Biological Resources Study & CSIRO Publishing.
Leliaert, F. & Coppejans, E. (2003). The marine species of Cladophora (Chlorophyta) from the South African east coast. Nova Hedwigia 76(1-2): 45-82.
Loiseaux-de Goër, S. & Noailles, M.-C. (2008). Algues de Roscoff. pp. [1]-215, col. figs. Roscoff: Editions de la Station Biologique de Roscoff.
Mathieson, A.C. & Dawes, C.J. (2017). Seaweeds of the Northwest Atlantic. pp. [i]-x, 1-798, CIX pls. Amherst & Boston: University of Massachusetts Press.
Nielsen, R. & Lundsteen, S. (2019). Danmarks havalger Bind 2 Brunalger (Phaeophyceae) og Grønalger (Chlorophyta). Scientia Danica. Series B, Biologica 8: [1]-476, col. figs and distributional maps.
Norris, J.N. (2010). Marine algae of the Northern Gulf of California: Chlorophyta and Phaeophyceae. Smithsonian Contributions to Botany 94: i-x, 1-276.
Pedroche, F.F., Silva, P.C., Aguilar-Rosas, L.E., Dreckmann, K.M. & Aguilar-Rosas, R. (2005). Catálogo de las algas marinas bentónicas del Pacífico de México. I. Chlorophycota. pp. i-viii, 17-146. Ensenada, México: Universidad Autónoma de Baja California.
Rodríguez-Prieto, C., Ballesteros, E., Boisset, F. & Afonso-Carrillo, J. (2013). Guía de las macroalgas y fanerógamas marinas del Mediterráneo occidental. pp. [1]-656. Barcelona: Ediciones Omega, S.A..
Salavarría Palma, E.A. & Paul, S. (2020). A peep into the transcriptome studies of the industrially important brown algae with special focus on Macrocystis genus. Revista Peruana de Biología 27(1): 49-53.
Sfriso, A. (2011). Chlorophyta multicellulari e fanerogame acquatiche. Ambiente di transizione italiani e litorali adiacenti. pp. [1]-318, pls 1-94. Bologna: Arpa Emilia-Romagna.
Suárez, A.M., Martínez-Daranas, B. & Alfonso, Y. (2015). Macroalgas marinas de Cuba. pp. [1]-264, 229 figs. La Habana [Havana]: UH [Universidad de La Habana] Editorial.
Titlyanov E.A., Titlyanova T.V. & Belous O.S. (2016). Useful marine plants of the Asia-Pacific Region countries. pp. 1-348, Many col. photo. Vladivostok: Dalnauka. [in Russian and English]
Titlyanov, E.A. & Titlyanova, T.V. (2012). Morskiye rasteniya stran Aziatsko-Tikhookeanskogo regiona, ikh ispol'zovaniye i kul'tivirovaniye [Marine plants of the Asian Pacific Region countries, their use and cultivation]. pp. 376, 52 numbered figures, 162 plates. Vladivostok: Dalnauka & A.V. Zhirmunsky Institute of Marine Biology Far East Branch of the Russian Academy of Sciences. [in Russian]
Titlyanova, T.V., Titlyanov, E.A., Xia, B. & Bartsch, I. (2012). New records of benthic marine green algae (Chlorophyta) for the island of Hainan (China). Nova Hedwigia 94: 441-470.
Trono, G.C., Jr (1997). Field guide and atlas of the seaweed resourves of the Philippines. pp. [i]-xx.[1]-306, 168 figs. Makati City, The Philippines: Bookmark, Inc..
Created: 06 April 1996 by M.D. Guiry
Verified by: 03 March 2021 by M.D. Guiry
Accesses: This record has been accessed by users 16007 times since it was created.
Verification of data
Users are responsible for verifying the accuracy of information before use, as noted on the website Content page.
References
(Please note: only references with the binomials in the title are included. The information is from the Literature database.)
Bakker, F.T., Olsen, J.L. & Stam, W.T. (1995). Global phylogeography in the cosmopolitan species Cladophora vagabunda (Chlorophyta) based on nuclear rDNA internal transcribed spacer sequences. European Journal of Phycology 30: 197-298, 3 figs, 4 tables.
Bot, P.V.M., Stam, W.T. & van den Hoek, C. (1990). Genotypic relations between geographic isolates of Cladophora laetevirens and C. vagabunda. Botanica Marina 33: 441-446, 3 tables.
Breeman, A.M., Oh, Y.S., Hwang, M.S. & Van den Hoek, C. (2002). Evolution of temperature responses in the Cladophora vagabunda complex and the C. albida/sericea complex (Chlorophyta). European Journal of Phycology 37: 45-58.
Hatta, A.M. & Breeman, A.M. (1992). Ecotypic variation in growth and survival temperature of Cladophora vagabunda (Chlorophyceae) isolates from different climatic zones. Marine Research in Indonesia 28: 43-54, 5 figs, 2 tables.
Peckol, P. & Rivers, J.S. (1995). Note: Competitive interactions between the opportunistic macroalgae Cladophora vagabunda (Chlorophyta) and Gracilaria tikvahiae (Rhodophyta) under eutrophic conditions. Journal of Phycology 31: 229-232, 2 tables.
Shameel, M. (1978). Effect of temperature on the pressure induced reproduction in Cladophora vagabunda (L.) Hoek. Pakistan Journal of Botany 10: 65-72.

Linking to this page: http://www.algaebase.org/search/species/detail/?species_id=236
Citing AlgaeBase
Cite this record as:
M.D. Guiry in Guiry, M.D. & Guiry, G.M. 2021. AlgaeBase. World-wide electronic publication, National University of Ireland, Galway. http://www.algaebase.org; searched on 17 September 2021.