Chaetomorpha linum (O.F.Müller) Kützing 1845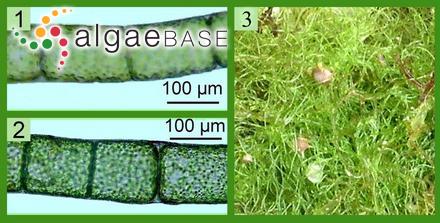 Chaetomorpha linum (O.F.Müller) Kützing 1, 2. Filament structure. 3. Intertwined filaments masses in intertidal pool (Sesoko Island, Okinawa, Japan).
© Eduard and Tamara Titlyanova (etitlyanov@mail.ru)
Publication details
Chaetomorpha linum (O.F.Müller) Kützing 1845: 204
Published in: Kützing, F.T. (1845). Phycologia germanica, d. i. Deutschlands Algen in bündigen Beschreibungen. Nebst einer Anleitung zum Untersuchen und Bestimmen dieser Gewächse für Anfänger. pp. [i]-x, [1]-340 ['240']. Nordhausen: zu finden bei Wilh. Köhne.

Download PDF
Type species
The type species (lectotype) of the genus Chaetomorpha is Chaetomorpha melagonium (F.Weber & D.Mohr) Kützing.
Status of name
This name is of an entity that is currently accepted taxonomically.
Basionym
Conferva linum O.F.Müller
Type information
Type locality: Nakskov Fjord, Lolland, Denmark (Lipkin & Silva 2002: 55). Notes: According to Womersley (1984: 176) the type is from Lolland, Denmark and is probably lost. Syntypes: Nakskov and Rødby, Denmark (Silva et al. 1996). Nakskov is in the Lolland municipality in Region Sjælland on the western coast of the island of Lolland in south Denmark. Rødby is a town and a former municipality (Danish, kommune) also on the island of Lolland.
Origin of species name
Adjective (Latin), flax (Lewis & Short 1890).
Homotypic Synonym(s)
Conferva linum O.F.Müller 1778
Lychaete linum (O.F.Müller) Areschoug 1851
Rhizoclonium linum (O.F.Müller) Thuret ex Bornet 1892

Heterotypic Synonym(s)
Chaetomorpha baltica Kützing
Conferva aerea Dillwyn 1806
Conferva linoides S.F.Gray 1821
Conferva linoides C.Agardh 1822
Conferva rigida C.Agardh 1824
Conferva setacea C.Agardh 1824
Chloronitum aerea (Dillwyn) Gaillon 1828
Conferva sutoria Berkeley 1833
Conferva torulosa Zanardini 1843
Conferva dalmatica Kützing 1843
Chaetomorpha torulosa Kützing 1845
Chaetomorpha rigida Kützing 1845
Chaetomorpha reticulata Kützing 1853
Conferva crassiuscula Zanardini 1854
Chaetomorpha sutoria (Berkeley) Harvey 1858
Chaetomorpha linum var. brachyarthra Schiffner 1916
Chaetomorpha linum f. aerea (Dillwyn) Collins 1918
Chaetomorpha linum f. brachyarthra (Kützing) Børgesen 1935
Chaetomorpha crassa f. tenuior Schiffner 1938

Taxonomic notes
John et al. (2003) cite Chaetomorpha aerea (Dillwyn) Kütz. as a synonym of this species. John et al. (2004) cite Chaetomorpha gallica Kützing as a synonym of this species.
Burrows (1991: 140-141) includes this entity in Chaetomorpha mediterranea (Kützing) Kützing; see Silva, Meñez & Moe (1987: 96) and Silva, Basson & Moe (1996: 936-937) for the reasons why C. ligustica is the correct name for a species complex that includes C. mediterranea. A complete revision of the genus Chaetomorpha is required.
Distributional notes
John et al. (2004) note that Rull Lluch (2002) does not follow Christensen (1957) in considering C. aerea and C. linum to be mere growth forms of the same species and suggests that the record for this species should be deleted from the Namibian flora.
Habitat notes
Entangled with Acanthophora; on Caulerpa selago, C. sertularioides and Turbinaria triquetra; on many algae in Chondrophycus papillosus community; in Caulerpa racemosa community; on Padina boergesenii (Lipkin & Silva 2002). - (17 Jun 2010) - Wendy Guiry
General environment
This is a marine/freshwater species.
Common names
(as Chaetomorpha linum (O.F.Müller) Kützing)
English: Flax Brick Weed (Bunker & al. 2010).
Japanese: Warakuzumo (Tokida 1954).
Swedish: Krullig borsttråd (Tolstoy & Österlund 2003).
Detailed distribution with sources (Click to Load)

Key references
Belous, O.S., Titlyanova, T.V. & Titlyanov, E.A. (2013). Morskiye rasteniya bukhty Troitsy i smezhnykh akvatorii radno (Zaliv Petra Velikogo, Yaponskoye more) [Marine plants of Trinity Bay and adjacent waters (Peter the Great Bay, Sea of Japan)]. pp. 263, profusely illustrated. Vladivostok: Dal'nauka. [in Russian]
Braune, W. (2008). Meeresalgen. Ein Farbbildführer zu den verbreiteten benthischen Grün- Braun- und Rotalgen der Weltmeere. pp. [1]-596, pls 1-266 (colour photographs). Ruggell: A.R.G. Gantner Verlag.
Brodie, J., Maggs, C.A. & John, D.M. (2007). Green seaweeds of Britain and Ireland. pp. [i-v], vi-xii, 1-242, 101 figs. London: British Phycological Society.
Burova, O.V., Tsarenko, P.M., Kovalenko, O.V., Mikhailyuk, T.I., Petlovany, O.A., Lilitska, G.G. & Bilous, O.P. (2011). Ulvophyceae. In: Algae of Ukraine: diversity, nomenclature, taxonomy, ecology and geography. Volume 3: Chlorophyta. (Tsarenko, P.M., Wasser, S.P. & Nevo, E. Eds), pp. 20-61. Ruggell: A.R.A. Gantner Verlag K.-G.
Burrows, E.M. (1991). Seaweeds of the British Isles. Volume 2. Chlorophyta. pp. [i]-xi, [1]-238, 60 figs, 9 pls. London: Natural History Museum Publications.
Cooke, J., Lanfear, R., Downing, A., Gillings, M.R., Poore, A.G.B., Goodwin, I.D., Waldron, L.S., Phillips, A., Metti, Y. & Bulbert, M.W. (2015). The unusual occurrence of green algal balls of Chaetomorpha linum on a beach in Sydney, Australia. Botanica Marina 58(5): 401-407.
Cormaci, M., Furnari, G., & Alongi, G. (2014). Flora marina bentonica del Mediterraneo: Chlorophyta. Bollettino dell'Accademia Gioenia di Scienze Naturali di Catania 47: 11-436.
Dawes, C.J. & Mathieson, A.C. (2008). The seaweeds of Florida. pp. [i]- viii, [1]-591, [592], pls I-LI. Gainesville, Florida: University Press of Florida.
Dawson, E.Y., Acleto, C. & Foldvik, N. (1964). The seaweeds of Peru. Beihefte zur Nova Hedwigia 13: 1-111, 81 pls.
Ding, L. & Luan, R. (2013). Flora algarum marinarum sinicarum Tomus IV Chlorophyta No. I Ulotrichales Chaetophorales, Phaeophilales, Ulvales, Acrosiphoniales. pp. [i]-xxi, 1-173, pls I-VI. Beijing: Science Press.
Funk, G. (1955). Beiträge zur Kenntnis der Meeresalgen von Neapel: Zugleich mikrophotographischer Atlas. Pubblicazioni della Stazione Zoologica di Napoli 25(Suppl.): i-x , 1-178, 36 figs.
Huisman, J.M. (2019). Marine plants of Australia Revised edition. pp. [i]-xviii, [1]-435, numerous col. figs. Crawley Western Australia: UWA Publishing.
John, D.M. (2011). Phylum Chlorophyta. Order Cladophorales. In: The freshwater algal flora of the British Isles. An identification guide to freshwater and terrestrial algae. Second edition. (John, D.M., Whitton, B.A. & Brook, A.J. Eds), pp. 557-564. Cambridge: Cambridge University Press.
Klochkova, N.G., Koroleva, T.N. & Kushidi, A.E. (2009). Atlas vodorosley-makrofitov prikamchatskikh vod [Atlas of algae-macrophytes of Kamchatka waters. Green and brown algae]. Vol. 1 pp. 216, profusely illustrated. Petropavlovsk-Kamchatski: Izdaniya KamchatNIRO. [in Russian]
Lagerheim, G. (1887). Ueber die Süsswasser-Arten der Gattung Chaetomorpha Kütz. Berichte der Deutschen Botanischen Gesellschaft 5: 195-202, pl. IX.
Nielsen, R. & Lundsteen, S. (2019). Danmarks havalger Bind 2 Brunalger (Phaeophyceae) og Grønalger (Chlorophyta). Scientia Danica. Series B, Biologica 8: [1]-476, col. figs and distributional maps.
Norris, J.N. (2010). Marine algae of the Northern Gulf of California: Chlorophyta and Phaeophyceae. Smithsonian Contributions to Botany 94: i-x, 1-276.
Pedroche, F.F., Silva, P.C., Aguilar-Rosas, L.E., Dreckmann, K.M. & Aguilar-Rosas, R. (2005). Catálogo de las algas marinas bentónicas del Pacífico de México. I. Chlorophycota. pp. i-viii, 17-146. Ensenada, México: Universidad Autónoma de Baja California.
Rodríguez-Prieto, C., Ballesteros, E., Boisset, F. & Afonso-Carrillo, J. (2013). Guía de las macroalgas y fanerógamas marinas del Mediterráneo occidental. pp. [1]-656. Barcelona: Ediciones Omega, S.A..
Salavarría Palma, E.A. & Paul, S. (2020). A peep into the transcriptome studies of the industrially important brown algae with special focus on Macrocystis genus. Revista Peruana de Biología 27(1): 49-53.
Sfriso, A. (2011). Chlorophyta multicellulari e fanerogame acquatiche. Ambiente di transizione italiani e litorali adiacenti. pp. [1]-318, pls 1-94. Bologna: Arpa Emilia-Romagna.
Sfriso, A., Wolf, M.A., Moro, I., Sfriso, A.A., Buosi, A. & Verlaque, M. (2018). Rediscovery of a forgotten Mediterranean Chaetomorpha species in the Venice Lagoon (North Adriatic Sea): Chaetomorpha stricta Schiffner (Cladophorales, Chlorophyta). Cryptogamie Algologie 39(3): 293-312.
Silva, P.C., Basson, P.W. & Moe, R.L. (1996). Catalogue of the benthic marine algae of the Indian Ocean. University of California Publications in Botany 79: [i]-xiv, 1-1259.
Skelton, P.A. & South, G.R. (2007). The benthic marine algae of the Samoan Archipelago, South Pacific, with emphasis on the Apia District. Nova Hedwigia Beihefte 132: 1-350.
Skinner, S. & T.J.Entwisle (2004). Non-marine algae of Australia: 6.Cladophoraceae (Chlorophyta). Telopea 10(3): 731-748, 6 fig.
Suárez, A.M., Martínez-Daranas, B. & Alfonso, Y. (2015). Macroalgas marinas de Cuba. pp. [1]-264, 229 figs. La Habana [Havana]: UH [Universidad de La Habana] Editorial.
Titlyanov E.A., Titlyanova T.V. & Belous O.S. (2016). Useful marine plants of the Asia-Pacific Region countries. pp. 1-348, Many col. photo. Vladivostok: Dalnauka. [in Russian and English]
Titlyanov, E.A. & Titlyanova, T.V. (2012). Morskiye rasteniya stran Aziatsko-Tikhookeanskogo regiona, ikh ispol'zovaniye i kul'tivirovaniye [Marine plants of the Asian Pacific Region countries, their use and cultivation]. pp. 376, 52 numbered figures, 162 plates. Vladivostok: Dalnauka & A.V. Zhirmunsky Institute of Marine Biology Far East Branch of the Russian Academy of Sciences. [in Russian]
Vinogradova, K.L. (1979). Opredelitel' vodorosley dal'nevostochnykh morey SSSR. Zelenyye Vodorosli [Manual for identification of the algae of the far-eastern seas of the USSR. Green algae]. pp. 147, 67 figures, 18 plates. Leningrad: Botanicheskii Institut imeni V.L. Komarova. [in Russian]
Created: 06 April 1996 by M.D. Guiry
Verified by: 17 February 2020 by M.D. Guiry
Accesses: This record has been accessed by users 23420 times since it was created.
Verification of data
Users are responsible for verifying the accuracy of information before use, as noted on the website Content page.
References
(Please note: only references with the binomials in the title are included. The information is from the Literature database.)
Bárbara, I. (2012). Egagrópilas de Chaetomorpha linum, Halopteris scoparia y Zostera noltei en Galicia. ALGAS, Bol. Inf. Soc. Esp. Ficol. 46: 13-16.
Christensen, T. (1957). Chaetomorpha linum in the attached state. Botanisk Tidsskrift 53: 311-316.
Cooke, J., Lanfear, R., Downing, A., Gillings, M.R., Poore, A.G.B., Goodwin, I.D., Waldron, L.S., Phillips, A., Metti, Y. & Bulbert, M.W. (2015). The unusual occurrence of green algal balls of Chaetomorpha linum on a beach in Sydney, Australia. Botanica Marina 58(5): 401-407.
Lavery, P.S. & Mccomb, A.J. (1991). The nutritional eco-physiology of Chaetomorpha linum and Ulva rigida in Peel Inlet, western Australia. Botanica Marina 34: 251-260.
McGlathery, K.J. & Pedersen, M.F. (1999). The effect of growth irradiance on the coupling of carbon and nitrogen metabolism in Chaetomorpha linum (Chlorophyta). Journal of Phycology 35: 721-731, 9 figs, 2 tables.
McGlathery, K.J., Pedersen, M.F. & Borum, J. (1996). Changes in intracellular nitrogen pools and feedback controls on nitrogen uptake in Chaetomorpha linum (Chlorophyta). Journal of Phycology 32: 393-401, 5 figs, 1 table.
Patel, R.J. (1971). Cytotaxonomical studies of British marine species of Chaetomorpha - I Chaetomorpha linum Kütz., and Chaetomorpha aerea Kütz.. Phykos 10: 127-136.

Linking to this page: http://www.algaebase.org/search/species/detail/?species_id=222
Citing AlgaeBase
Cite this record as:
M.D. Guiry in Guiry, M.D. & Guiry, G.M. 2021. AlgaeBase. World-wide electronic publication, National University of Ireland, Galway. http://www.algaebase.org; searched on 24 October 2021.